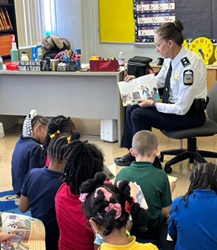 COLUMBUS, Ohio (PRWEB) November 16, 2022
On November 9, Deputy Chief Jennifer Knight participated in the Books & Badges program by reading to a class of second-grade students at Bessie Sherrie Price Preparatory Academy in Columbus, Ohio. The Books and Badges program is made possible through a partnership with Starfish Assignment, which ensures each student receives a new copy of the book.
Deputy Chief Knight read "Flat Stanley and the Very Big Cookie" with the class before sharing cookies with all the students. After the reading, Deputy Chief Knight answered many questions from the students about law enforcement. The questions included, "What does it take to be a police officer?", "How do you catch bad guys?" and "Are there a lot of girls that are the police?"
Since December 2019, more than 20,000 books have been donated to the agency through the program. Books & Badges enables law enforcement officers to read to students in elementary school, and each student receives a copy of the book that the officer reads from Starfish Assignment.
"Through partnerships with local schools and non-profits like Starfish Assignment, law enforcement can actively create those positive opportunities to connect with the community," said Jennifer Knight, Deputy Police Chief, Columbus, Ohio. "Spending time in the classroom will remind you what an impact this profession can have on the next generation."
In addition to helping build literacy among the students, the Books & Badges program allows officers to build a bond with the children in the neighborhoods they serve.
The partnership works in different ways with each of the organization's 15 partner agencies, with some readings happening on-site and outside the classroom.
On another visit to West Broad Elementary School, Deputy Chief Jennifer Knight read her favorite book, "The Invisible Boy," to the school's second graders. She also brought with her members of the CPD Therapy Dog Unit.
The students learned about Andy and his handler Sergeant Chanty Boxill and Eddie and his handler Officer John Gagnon.
Interactions like these help build strong relations between law enforcement agencies and the community's future -- its children. It's a fun and interactive program that keeps the children engaged while they learn about things in the world around them in a very unique way.
Books & Badges provides students with amazing ways to learn while also serving as a fun and educational experience for law enforcement officers. Deputy Chief Jennifer Knight was excited to have participated recently and is looking forward to doing so again in the future.
About Jennifer Knight
Jennifer Knight, Deputy Police Chief in Columbus, Ohio, is known for dynamic leadership, innovative community engagement, and excellence in the field of law enforcement. After earning her Juris Doctor, she received the National Women's Law Association Award of Excellence. Ms. Knight is a strong advocate for women in law enforcement and is a passionate community volunteer.