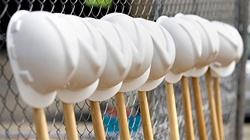 This is a state-of-the-art facility that will allow the students who wrestle to experience ownership and pride.
NORTH VERNON, Ind. (PRWEB) February 24, 2020
The Jennings County School Corporation (JCSC) will hold a groundbreaking ceremony for the 24,000-square-foot wrestling addition to Jennings County High School at 4 p.m. Thursday, March 5. The ceremony will be held in the high school's Auxiliary Gym.
The first-class facility will be dedicated to the district's wrestling program. It will be connected on the south side of the existing gym by a corridor that is adjacent to the weight room. The facility will seat about 800 people and include two locker rooms and a large equipment storage area with a garage door for easy access. It also will have an office for the wrestling coach, complete with its own shower, restroom, changing area and closet.
The new wrestling facility was designed by Woolpert through the firm's Indianapolis and Cincinnati offices. Construction will be provided by Harmon Construction, from its local North Vernon office. Harmon Construction was the low bidder on the project, and members of Harmon's team are parents of past and current students at Jennings County High School.
"This is a state-of-the-art facility that will allow the students who wrestle to experience ownership and pride," Jennings County High School Wrestling Coach Howard Jones said. "The facility will benefit wrestlers from preschool through high school and offer more opportunities and access at all levels to our wrestling program and to our community."
Superintendent Teresa Brown said the wrestling program has been exemplary for decades. "We can't wait to hang our championship banners in our new wrestling home," she said.
The facility is on target to be finished in time for the 2020-2021 wrestling season.
About Woolpert
Woolpert is committed to a vision to become the premier architecture, engineering, geospatial (AEG) and strategic consulting firm, and one of the best companies in the world. It's a vision we've been fine-tuning for decades. It guides our decisions and investments, provides our clients with optimal solutions and offers our employees unrivaled opportunities. Woolpert is recognized as a Great Place to Work by its employees and is America's fastest-growing AEG firm. With more than a century of experience, close to 1,000 employees and 30 offices, Woolpert supports public, private, federal, and U.S. military clients nationally and around the globe. For more information, visit woolpert.com and connect with us on LinkedIn, Twitter, Facebook and Instagram.