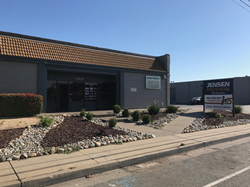 "I feel like the luckiest guy in the world the way this all turned out. Owning our building is an amazing feeling! Our future is stable and the sense of security I have knowing that is unbeatable."
SACRAMENTO, Calif. (PRWEB) July 07, 2020
Ralph Jensen, the owner of a family-owned fastener shop, never dreamed he could afford to buy a building for his business. He leased his property for 25 years before he was introduced to the Small Business Administration's (SBA) 504 Program and realized that buying a building was within his reach. By utilizing the SBA 504 Program, Jensen purchased their building with 90 percent financing and a record low interest rate.
"It was actually my landlord that informed me that there are alternative ways to financing a building purchase," explained Jenson. "We're a small mom and pop shop, we could never afford the down payment required with conventional financing."
Jensen Fasteners was established in 1981 and specializes in retail and industrial sales and service of nailers, staples, and other fasteners.
"I was connected with Jim Azevedo who made this happen for us," continued Jensen. "I had never bought a building before so Jim came in, took the reins, and guided me all the way to the finish line."
Azevedo, senior vice president of TMC Financing, facilitated the deal that allowed Jensen to purchase 7935 14th Avenue in Sacramento, the property they had been leasing for 25 years. The SBA 504 Program enabled Jensen to acquire the 9,100 square foot property for $1,410,500 with only 10 percent down.
"Jensen was a perfect candidate for SBA 504 financing," states Azevedo. "Staying in his current property was key and we were able to make it happen. He now has peace of mind knowing that this location will always be his. He is building equity and enjoying a mortgage that is less than what he was paying in rent!
"Additionally, the timing couldn't have been better. Jensen received a record low interest rate, which is fixed for 25 years, and six months of debt forgiveness under the CARES Act."
The Coronavirus Aid, Relief, and Economic Security Act, also known as the CARES Act, is a law intended to address the economic fallout of the COVID-19 pandemic. Under it, the SBA will cover all loan payments on SBA loans, including principal, interest, and fees, for six months.
"The fact that the SBA will step in during unprecedented times such as these is extremely comforting and makes me even more grateful for going this route," states Jensen.
"I feel like the luckiest guy in the world the way this all turned out. Owning our building is an amazing feeling! Our future is stable and the sense of security I have knowing that is unbeatable."
About SBA 504 Real Estate Loans
The U.S. Small Business Administration 504 loan program allows small-business owners to finance commercial real estate and other fixed assets with long-term, below-market, fixed interest rates. SBA 504 loans can be used to finance the total project cost (TPC), which can include the purchase price, construction/renovations, equipment, soft costs and closing costs. A typical 504 loan project requires a down payment of 10 percent of the TPC from the borrower, with the remaining amount split between a first mortgage provided by a commercial lender and a second mortgage provided by a certified development company (CDC). By enabling owners to keep their capital working to grow the business and create jobs, the 504 program provides long-term stability to both businesses and communities.
About TMC Financing
Founded in 1981, TMC Financing is the nation's No. 1 provider of SBA 504 commercial real estate financing. The company has secured about $10 billion in SBA 504 financing, benefiting nearly 6,000 businesses throughout California and Nevada, and resulting in the creation of an estimated 60,000 jobs.
For more information on SBA 504 loans and the local businesses they support, visit http://www.tmcfinancing.com.