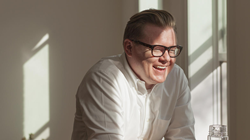 "To be a good designer you have to have a tremendous amount of empathy," says Young.
BILLINGS, Mont. (PRWEB) August 18, 2020
Business of Home is the respected media of record for the U.S. home industry, considered a must-read by designers coast to coast. So being chosen for Editor in Chief Kaitlin Petersen's yearlong "50 States Project," which she describes as a "series of candid conversations with designers we admire" – one from each state – is a coveted honor. As she worked her way through the "M" states this July, Petersen reached out to Jeremiah Young, owner and creative director of Kibler & Kirch, to represent his state of Montana. The resulting Business of Home interview with Young covers topics including "transforming legacy businesses, how the landscape fuels his creativity and his uniquely collaborative design method."
Kibler & Kirch doesn't subscribe to a particular "look," instead creating timeless, quality – and uniquely personalized – designs that clients love. "We do some projects that are flagrantly contemporary and others that are so rustic you hear banjos playing in the background," Young tells BOH. While he grew up in the Smoky Mountains in Tennessee, Young's spiritual home is unquestionably Montana. He revels in the landscape – "the most beautiful place in the world" – which, along with the work of talented local artisans and artists, infuses all of Kibler & Kirch's projects with a distinctly Montana spirit, from a stately Billings manse that reflects the cosmopolitan owners' travels to a Thomas Molesworth-inspired Wyoming cabin, featured in the book Cabin Style, that he custom-designed down to the tiniest detail.
Young purchased Kibler & Kirch in 2010. The firm, started by Rosina Kastelitz and Erica Hash in 1990, was already a local legend, best known for its beloved Red Lodge, Montana, retail shop. But after 20 years, the original owners were retiring. "Doesn't somebody want to buy this business?" Young, who'd stopped in to buy a chair, remembers asking Kastelitz. A month later, the deal was done "and I was up to my eyeballs in all the things I didn't know before," he says.
While Kibler & Kirch had always included an interior design business, Young moved the emphasis to the design side, opening his studio and showroom in the historic Stapleton Building in downtown Billings in 2015 and creating the "sister business" of Stapleton Gallery, where he could feed his passion for Western art and support Montana's rich community of artists. Along the way he added a new role as creative director for iconic American furniture company Old Hickory to his CV, expanding and editing offerings to keep it relevant while focusing on authenticity and attention to detail because "people recognize when something is the real deal."
Recently, Young closed the Kibler & Kirch Red Lodge retail store, with plans to reopen in his Billings Stapleton building. "We've got to reimagine and keep the soul of the retail store we've had forever, then translate it into something even more amazing," he tells BOH. In the meantime, Young and his team of six are busier than ever, with more than 25 current projects – both new builds and significant remodels – underway. Always he is mindful of growing a legacy: "I took over this firm that's been going for 30 years now … I'm trying to take this namesake with a great reputation so that it can go beyond me and live for another 30 or 50 or 100 years."
BOH notes that the Kibler & Kirch design process is unusual – with editor Petersen titling the interview, "Why this Montana designer never presents to clients." Instead of meeting with the client and then going back to the studio to put together a presentation, Kibler & Kirch involves clients in the nuts and bolts of designing, spending days at a time working in tandem. "We're working on intimate spaces," Young says. "These are their homes, and you have to truly get to know them to do good work for them."
While Young's BOH interview delves into some of the challenges of running a design business, from billing to managing staff, ultimately for him the joy is in the "people and taking care of people," he says. "To be a good designer, you have to have a great amount of empathy—an ability to love your clients, be inspired for them and take this journey with them. That's what gives me this greatest satisfaction."
About Jeremiah Young's Kibler & Kirch:
Annually recognized on Mountain Living magazine's Top Mountain Designers list, Kibler & Kirch resonates with a distinctive – and distinctly Western – style. Its Billings, Montana, showroom represents more than 100 companies featuring a carefully curated collection of American-made furnishings and décor ranging from rustic to refined. And owner and creative director Jeremiah Young and staff bring those resources – and deep connections with regional artists and artisans, including those represented by Young's Stapleton Gallery – to bear on crafting timeless interiors for clients where the spirit of the West meets modern treasures that are built to last. Follow Kibler & Kirch on Instagram and for more information, visit http://www.kiblerandkirch.com.