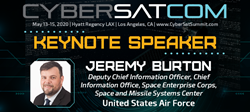 ROCKVILLE, Md. (PRWEB) March 05, 2020
CyberSatCom, taking place May 13-15, 2020 at the Hyatt Regency LAX in Los Angeles, CA, announced today that Jeremy Burton, Deputy Chief Information Officer, Chief Information Officer, Space Enterprise Corps, United States Air Force, will deliver the opening keynote on Thursday, May 14.
Mr. Jeremy Burton leads a 50+ member team responsible for ensuring SMC delivers secure satellite, launch and command and control systems for National Space missions. In this role, Jeremy directs the posture of enterprise cyber integrated product teams to design, integrate and maintain cyber capabilities into ground and satellite and business systems. He is also currently leading an effort to enhance US Space Force's IT networks in support of SMC/ECC priority initiatives.
"CyberSatCom is quickly becoming the most important event for the satellite community on the West Coast," said Mark Holmes, Chair of CyberSatCom and Editorial Director of Via Satellite. "The event boasts one of the most diverse speaker line-ups you will see this year, and we are very excited about having Jeremy Burton as the keynote as this will guarantee CyberSatCom as the most thought-provoking and important satellite event you will attendee in 2020!"
CyberSatCom's two-day conference program focuses on cyber threats and security of the growing small satellite and LEO markets that is accompanied by a full-day of classified sessions. Registration is open for CyberSatCom with special discounts full-time employees of a Government (.gov), Military (.mil), or Academic (.edu) organization. Members of the press are encouraged to sign up to attend at no cost.
For more information, please visit http://www.cybersatsummit.com.
Social Media Profiles
Facebook: http://www.facebook.com/cybersatsummit
LinkedIn: http://www.linkedin.com/company/cybersat
About CyberSatCom
Thousands of interconnected small satellites from NewSpace companies are expected to be launched within the next few years which will bring a new set of vulnerabilities for the industry. With a growing need for cybersecurity, CyberSat will launch its first CyberSatCom from May 13-15, 2020 at the Hyatt Regency LAX in Los Angeles, CA with a focus on tackling cybersecurity threats to small satellites and emerging technologies. Join 200+ cybersecurity professionals for interactive discussions, workshops, and sessions that will help you secure your assets while picking the brain of industry leaders while networking with peers. Please visit http://www.cybersatsummit.com/event/commercial for more information.
About CyberSatGov
CyberSatGov is the only satellite security event in the world that successfully fuses satellite, space, cyber, and government to educate on threat vectors and deliver solutions to thwart next-generation attacks. CyberSatGov will take place October 6-8, 2020 at the Hyatt Regency Reston in Reston, VA to welcome 400+ industry experts, satellite service providers, C-Suite executives, innovators and engineers, cybersecurity experts, Federal Intelligence Agencies, and the DoD for interactive discussions, workshops, and disruptive technologies.