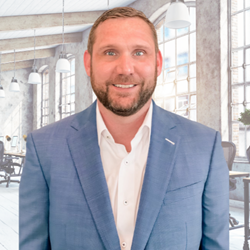 "I am filled with excitement as I begin my career with Future Home Loans and look forward to working collaboratively as a team to ensure we are the number one choice for any home loan needs!"
JACKSONVILLE BEACH, Fla. (PRWEB) April 13, 2021
Future Home Loans, this past month, announced their latest addition to their operations staff; Jeremy Mercer has joined Future Home Loans as their Director of Operations. Mercer brings 20 years of experience from the mortgage banking industry. As the Director of Operations, he will be working with the executive team to make decisions for operational activities and strategic goal setting, planning and monitoring the daily running of business, and overseeing their internal operations department.
Mercer has a wide range of experience developing training methods, implementing underwriting guidelines, handling complex customer service, and managing daily loan delivery while overseeing process escalations. In this role, he intends to draw from his extensive finance and mortgage banking background by expanding Future Home Loans in the way of customer service, production, finance, and employee management.
Mercer comes to Future Home Loans from UBS Financial. During his tenure, he functioned as a single point of contact for both clients and financial advisors throughout the loan process. This included coordinating all stages of the loan process with third parties such as vendors, realtors, developers, and accountants from loan origination through closing. "Each milestone in my career held an opportunity to gain the knowledge and skill set required to successfully assist with every aspect of the home loan process necessary to achieve satisfactory results," said Mercer. "I am filled with excitement as I begin my career with Future Home Loans and look forward to working collaboratively as a team to ensure we are the number one choice for any home loan needs!"
Mercer describes himself as "committed, a problem solver, and positive". He's extremely dedicated to accomplishing results that meet the standards and high level of expectations. Mercer always welcomes a challenge and enjoys finding solutions for any challenge or obstacle. He is also a believer in a positive attitude will lead to a positive impact, especially to those around him.
Mercer is an advocate in the non-profit community for helping out infants and children who are diagnosed with rare diseases such as Hemophagocytic Lymph histiocytosis, a severe systemic inflammatory syndrome. Having personal ties to this disease, Mercer found himself not only eager to share information about it, but also divulge his personal time into his local community to raise money thus supporting local families affected by the many immune system diseases. In his free time, he volunteers with Ronald McDonald House Charities program, "Pop Tabs".
Future Home Loans is confident that Mercer embodies many of the strategic and customer-centric values their team presents to our clients and partners on a daily basis. With Mercer's two decades of experience, strong commitment, dedication, and positive attitude, he is going to push Future Home Loans into new and exciting territory that will only help the company grow stronger.
Future Home Loans was founded in sunny Jacksonville Beach, Florida in 2017. Since then, they have expanded their horizons to the Space Coast, venturing into new waters via their Melbourne, Florida branch. Prior to starting Future Home Loans, their founders were top producers within the realm of corporate finance and found themselves eager to bring mortgages to a new level: a brokerage of fellow hard-working and customer-centric loan officers. They are locally veteran-owned and operated and continue to set their goals high in the way of expansion and growth. They believe everyone's "future is bright".
Press Contact:
Mary Walker, Marketing Director, Future Home Loans
Email: marketing@future.loans
Tel: 904.449.0532
About Future Home Loans:
Whether you are planning to purchase your first home, refinance your current mortgage, buy an investment property or a second vacation home, Future Home Loans is here and eager to assist you reach your financial goals. By working with a team of experts with top industry knowledge, you can guarantee a seamless process handled by the industries very best. Our team prides itself on its top-bar service, dedication to a timely transaction, and holding our family-feel values above all else.
At Future Home Loans, you can guarantee that our team of mortgage professionals puts your future first and wants it to be the brightest possible. As a team, we have over 1,000 online 5-star reviews illustrating our founding principles of stellar customer service, low rates, and swift closing times. What sets us above the rest, is the ability to shop the best possible rates for you. We have access to hundreds of individual loan options, and will guarantee top-notch service and rates!
Some mortgage lenders promise good service, and others promise a good rate. At Future Home Loans, our commitment to you, is to provide you with the best of both. A fantastic loan rate, and world-class customer service! We implore you to contact our team today to ensure your financial future is the brightest it can be.