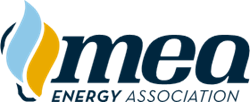 BLOOMINGTON, Minn. (PRWEB) December 26, 2018
MEA is proud to present Meritorious Service Awards to Jeremy Strickland, sr. measurement technician and Ray McCrickard, measurement technician, both employees of City Utilities of Springfield for assisting a mentally and physically disabled individual walking on the shoulder of a very busy road. McCrickard distracted the gentleman with conversation trying to find out where he was from. When authorities finally arrived, with Strickland and McCrickard's help, they found that the gentleman had walked out of a long-term care facility seemingly unnoticed. MEA presents the Meritorious Service Award annually to recognize individuals of MEA member companies who have performed actions in the service of another that are considered above and beyond.
"It is a privilege to present the Meritorious Service Awards," said John Gann, MEA Energy Association vice president. "These awards serve to highlight the outstanding individuals in the energy industry who rise up when called and make a positive contribution to society."
City Utilities of Springfield is a community-owned utility that serves southwest Missouri. They've been a member of MEA since 1960.
Applicants for the Meritorious Service Award are approved by the Executive Committee of MEA's Board of Directors. Read about all MEA awards at https://www.meaenergy.org/outreach/awards/.
For questions contact John Gann, johng (at) MEAenergy (dot) org, or (651) 289-9600 x105.
About MEA:
MEA serves the people that deliver electricity and natural gas to homes and businesses. We were founded as a trade association over 110 years ago by distribution utilities whose vision was to improve safety and efficiency. Today, we fulfill the same purpose through education, leadership development, and industry connections. Energy delivery companies, contractors, and suppliers around the country benefit from our 55 summits, roundtables, and webinars, 400+ online technical courses, safety assessments, evaluator training, operator qualification compliance tools, and leadership courses for field personnel.