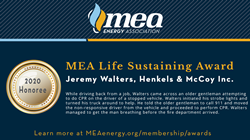 Walters managed to get the man breathing before the fire department arrived.
BLOOMINGTON, Minn. (PRWEB) September 23, 2020
MEA Energy Association (MEA) is honored to present Jeremy Walters, foreman, of Henkels & McCoy Central Region, with a Life Sustaining Award for saving a man's life.
While driving back from a job, Walters came across an older gentleman attempting to do CPR on the driver of a stopped vehicle. Walters initiated his strobe lights and turned his truck around to help. He told the older gentleman to call 911 and moved the non-responsive driver from the vehicle and proceeded to perform CPR. Walters managed to get the man breathing before the fire department arrived.
"It is a privilege to bestow this Life Sustaining Award," said John Gann, MEA Vice President. "These awards serve to highlight the outstanding individuals in the energy industry who rise up when called and make a difference when presented with the opportunity to do so."
Henkels & McCoy Inc. is based out of Blue Bell, Pennsylvania and have been members of MEA since 1997.
MEA Life Sustaining Awards are presented to individuals from member companies who have saved the life of another. Applications for the MEA Life Sustaining Award are reviewed and approved by the Executive Committee of MEA's Board of Directors. Read about all MEA awards at https://www.meaenergy.org/membership/awards/.
For questions contact John Gann, johng (at) MEAenergy (dot) org, or (651) 289-9600 x105.
About MEA:
MEA serves the people that deliver electricity and natural gas to homes and businesses. We were founded as a trade association over 110 years ago by distribution utilities whose vision was to improve safety and efficiency. Today, we fulfill the same purpose through education, leadership development, and industry connections. Energy delivery companies, contractors, and suppliers around the country benefit from our 55 summits, roundtables, and webinars, 400+ online technical courses, safety assessments, evaluator training, operator qualification compliance tools, and leadership courses for field personnel.