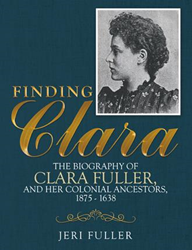 RIO RANCHO, N.M. (PRWEB) February 16, 2023
A genealogist and family historian of 40 years, Jeri Fuller began tracing her family tree in 1972, when there was no internet or online family history databases. Her success comes by obtaining vital records, using online resources, finding hundred-year-old family history books, and conducting first-hand research at the local level, where her ancestors lived in Minnesota, New York, and Massachusetts. Her first book, "Finding Clara: The Biography of Clara Fuller and Her Colonial Ancestors, 1875–1638" (published by Archway Publishing) is the result of an arduous labor of love, curiosity, and dedication.
This memoir is a result of a single genealogical lead that became a family mystery in 1972. Jeri's mother did not know Charles Emery Fuller, had been previously married, because there was no family history or photos handed down of Clara or her mother. Jeri shares how she solved the mystery of finding Clara with sound historical research. The cover photo of Clara came from an ancestors' history book published in 1893. The biography of Clara describes her family's connection to Northfields' unique history. She retells that her family homesteaded to Northfield in 1856, was a witness to the attempted bank robbery, along with three generations who attended Carleton College from 1867-1924, and so much more. Jeri describes how she found her fourth great-grandmother, Violet Fuller's maiden name born in 1796. Jeri explains why John Fuller second born in 1757 is not a "junior." She documented her Fuller family's history, unfolding alongside America's history. She solved over seven Fuller family history mysteries, identifying 11 generations back to Cambridge, Massachusetts to 1638.
"As a child of a father in the military, I never dreamed I could identify two Fuller ancestors that served in the Civil and American Revolutionary Wars." "The more family history I found, the more I knew there was more to find." "I discovered that there is no such thing as a coincidence — being in the right place at the right time was crucial to uncover some of our family's history."
When asked what she wants readers to take away from her book, Jeri answered, "I wish to inspire my readers in finding their ancestors, by sharing the methods and resources I used to connect with my family's past. This 40-year adventure gave me an opportunity to meet my first Fuller relatives outside my dad and grandmother in 1997 at the age of 43. I hope my readers will be curious to solve a family history mystery of their own!" For more details about the book, please visit https://www.archwaypublishing.com/en/bookstore/bookdetails/830130-finding-clara
"Finding Clara: The Biography of Clara Fuller and Her Colonial Ancestors, 1875–1638"
By Jeri Fuller
Hardcover | 8.5 x 11in | 168 pages | ISBN 9781665718264
Softcover | 8.5 x 11in | 168 pages | ISBN 9781665718271
E-Book | 168 pages | ISBN 9781665718288
Available at Amazon and Barnes & Noble
About the Author
Jeri Fuller recently retired from the United States Department of Agriculture, as a Human Resource Specialist and was on the National Fire Team. She enjoys traveling, gardening, keeping physically active and spending time with her family.
Simon & Schuster, a company with nearly ninety years of publishing experience, has teamed up with Author Solutions, LLC, the worldwide leader in self-publishing, to create Archway Publishing. With unique resources to support books of all kind, Archway Publishing offers a specialized approach to help every author reach his or her desired audience. For more information, visit archwaypublishing.com or call 844-669-3957.