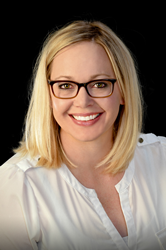 With the LANAP protocol, I am able to address gum disease with a treatment that that is much more comfortable for patients.
FORT COLLINS, Colo. (PRWEB) December 05, 2018
Dr. Jessica Allen of Northern Colorado Periodontics is pleased to offer the LANAP® protocol as gum disease treatment and LAPIP™ protocol for ailing dental implants in the Fort Collins area. Dr. Allen joins an elite class of periodontists providing patients with a minimally invasive treatment proven to regenerate the bone and tissues lost to gum disease.
"Gum disease is a problem that many people have, and unfortunately, many of them don't even know it," said Dr. Allen. "When a patient finds out, they rarely are excited about traditional surgery. With the LANAP protocol, I am able to address their gum disease with a treatment that that is much more comfortable for them."
Dr. Allen has already received advanced training in periodontology. Adding the LANAP protocol as a minimally invasive gum disease treatment reinforces her commitment to remaining advanced in the field of periodontics. The LANAP protocol can be performed in as little as one treatment session, and is safe to use on patients with health concerns such as diabetes, heart disease, and hemophilia. It is the only scientifically proven laser gum disease treatment FDA cleared to regenerate the bone and tissues lost to gum disease.
Gum disease is a chronic bacterial infection that rarely has any symptoms in its early stages. Despite the lack of symptoms or pain, the disease can still cause serious damage to your mouth, leading to loss of teeth, which has been tied to decreased lifespan. Additionally, several other serious illnesses like cancer, heart disease and diabetes have suggested links to gum disease.
LANAP treatment users laser energy to target the source of gum disease, without harming or removing any healthy gum tissue, decreases pocket depth, and allows the body to recover from the chronic infection without the need for scalpel or sutures. In cases of failing dental implants, the LAPIP treatment is used to treat peri-implantitis and save the implant. Patients report less pain and less post-op sensitivity and a quicker recovery when compared to traditional osseous surgery. The LANAP treatment is a patented procedure that requires doctors to be trained over the course of five days of hands-on, live patient training by the Institute for Advanced Laser Dentistry (IALD).
For information on the LANAP protocol, call Northern Colorado Periodontics at (970) 614-4313 for an appointment.
About Dr. Allen
Dr. Jessica Allen was born and raised in Las Vegas, NV where she completed undergraduate at the University of Nevada and her doctoral education at the University of Nevada School of Dental Medicine. She graduated magna cum laude and was inducted into Omicron Kappa Upsilon, a national dental honor society. She received her certificate in Periodontics and Masters of Dental Sciences from Virginia Commonwealth University where she served as chief resident and clinical instructor in the pre-doctoral clinic.
Dr. Allen is a Diplomate of the American Board of Periodontology and Dental Implant Surgery. She maintains current memberships in multiple dental societies and continues to advance her degree and expertise with continuing education.
Dr. Allen takes the time to understand the patient's desires and concerns to develop the best periodontal treatment plan for each patient. She has also been trained in aesthetically enhancing patient's smiles by use of periodontal plastic surgery procedures and dental implants.
###
Dr. Allen enjoys the outdoors, football, cooking and spending time with her husband and son. She is excited to be in Northern Colorado and looking forward to providing patients with the highest standard of care.