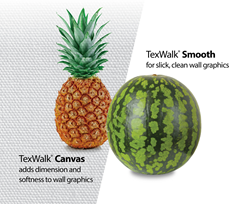 "Our customers have been asking for a material they could use to capitalize on the resurgence of custom feature walls and boutique wallpaper in the interior design market," said Robert A. Jessup, president and CEO of Jessup Manufacturing. "These are it."
MCHENRY, Ill. (PRWEB) July 24, 2020
Jessup Manufacturing Company today introduced not one, but two new members of its highly popular TexWalk® family of Print-N-Go™ graphics media:
TexWalk® Canvas and TexWalk® Smooth.
Both new TexWalk® Canvas and Smooth are engineered exclusively for interior wall applications and are certified for use as a wall covering. "Our customers have been asking for a material they could use to capitalize on the resurgence of custom feature walls and boutique wallpaper in the interior design market," said Robert A. Jessup, president and CEO of Jessup Manufacturing. "These are it."
The governing standards for a material to be used as a Type I wall covering: CCC-W-408D issued by the Government Services Administration and ASTM-E84. All TexWalk® graphics media are certified to this standard and are available for use as a wall covering; for clarity, this includes the original TexWalk®.
So if the original TexWalk® can be used as a wall covering, why develop two new finishes? "The original TexWalk® was engineered for ground graphics and is certified for anti-slip safety. Customers were looking for something different, a material with more of a fine-art look and feel," Jessup said.
In establishing product development objectives, Team Jessup insisted on certain requirements. These included: wall covering certification, artistic finishes, stain resistance, washability, finished art in a single-pass on a printer, peel-and-stick installation on smooth surfaces, a strong adhesive that removes cleanly and creates opportunities in new and existing markets for customers.
"We hit them all," Jessup said, adding that the original TexWalk® material became a possible option because of its fabric reinforced scrim that keeps the vinyl dimensionally stable. With meticulous engineering and testing, the team discovered the anti-slip properties of the original TexWalk® could be bypassed and the material could be reconfigured to create a smooth and canvas-like finish.
"The original TexWalk® is certified so it can be used as a wall covering," Jessup said, "but – and this is important – the new canvas and smooth finishes do not have anti-slip safety certification and are not designed for floor use."
Jessup currently has inventory and is fillings orders.
Jessup Manufacturing is headquartered in McHenry, IL and has manufacturing operations in McHenry and nearby Lake Bluff. Robert Jessup is the third-generation owner of the company started by his grandfather in 1956. The company currently employs about 100 persons and is actively hiring.
ABOUT JESSUP MANUFACTURING
Founded in 1956, Jessup Manufacturing Company has grown into a global manufacturer of adhesive coated films. The company is recognized worldwide for its world-class service, support and product quality provided to a growing customer base that includes the national defense, healthcare workers and first responders, as well as the pharmaceutical, food processing, chemical, action sports, transportation sectors (aerospace, automotive, rail, marine), energy, architecture, construction, advertising and safety graphics media diversified manufacturing markets. Jessup was deemed an essential manufacturer and has remained open during the pandemic. Jessup is currently expanding its McHenry operations by 30,000 square feet and increasing its material coating capacity by almost double. The company is actively hiring. In additional to its griptape product line, Jessup's global brands include Solve+Make™, Jessup's service for making application-specific adhesive coated films; Safety Track® non-slip tapes and treads; Glo Brite® photoluminescent films and exit signs; Asphalt Art® and TexWalk® media for printed graphics. Visit jessupmfg.com for more company information.
JESSUP ENVIRONMENTAL IMPACT STATEMENT:
Jessup Manufacturing Company is committed to developing products that improve the way people live, work and play while creating a lower impact on the environment. Jessup has on staff industrial, performance and quality engineers, chemists and technicians, all committed to studying and refining the impact of its products so as to minimize if not altogether eliminate the negative impact on the environment. Jessup is recognized as a global leader in the development of sustainable products that have redefined how international, national, state and local code writers specify products that require zero energy and are recyclable to enhance human and wildlife safety; some products qualify for LEED credits. Jessup is committed to the continued innovation of materials and products in ways that deliver quality performance while also protecting the environment.