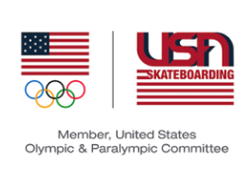 "Jessup's desire to step up and support USA Skateboarding in the midst of all that's going on in the world has been really encouraging," said Josh Friedberg, Chief Executive Officer for USAS.
MCHENRY, Ill. (PRWEB) July 22, 2020
Jessup Manufacturing Company has entered into an agreement to become the Official Griptape Sponsor of USA Skateboarding (USAS), a partnership agreement that extends through 2028.
"This is a truly special opportunity, and we are thrilled beyond belief to have it," said Robert A. Jessup, third-generation owner of Jessup Manufacturing. Jessup, headquartered in McHenry, IL, with manufacturing plants in Lake Bluff, IL, and McHenry, is the only skateboard griptape manufacturer in the United States.
The partnership comes as USAS is preparing for the debut of skateboarding in the Summer Olympic Games in Tokyo, rescheduled to 2021 due to the global pandemic. USA Skateboarding is the United States Olympic & Paralympic Committee recognized national governing body for skateboarding.
"Jessup's desire to step up and support USA Skateboarding in the midst of all that's going on in the world has been really encouraging," said Josh Friedberg, Chief Executive Officer for USAS. "It has been great to find an American-made griptape company who shares many of the values of USAS, and we're really excited to have them as a long-term partner."
Jessup currently sponsors a global team of nearly 100 individual competitive skaters. "We've always supported skaters, skate shops, and skate parks; we've just done it under the radar," Rob Jessup said.
This year, Jessup introduced its Signature Series® of printed griptape; griptape art created by skaters for skaters. The first two editions of the series were from Silas Baxter-Neal, a former Thrasher magazine "Skater of the Year" and Danny Wainwright, who in 2000 set the world record for the highest Ol-lie (113cm on flat terrain). "Don't be surprised if we publish some art created by USA Skateboarding National Team members," Jessup said.
In 2016, Jessup Manufacturing celebrated its 60th anniversary by launching a "60 Ways in 60 Months" community outreach program in which the company and its employees volunteered time and other resources to community events. The 60 events – many of which involved skating and adaptive sports – were completed in 48 months.
"That speaks directly to the caliber of the Jessup organization and another reason why we're excited about the partnership," Friedberg said. "From inclusion to environmental sustainability and their commitment to all levels of skating, it's a natural fit."
Jessup is also committed to environmental sustainability and product safety. The company's environmental impact statement:
Jessup Manufacturing is committed to developing products that improve the way people live, work and play while creating a lower impact on the environment. Jessup has on staff industrial, performance and quality engineers, chemists and technicians committed to studying and refining the impact of its products so as to minimize if not altogether eliminate the negative impact on the environment. Jessup is recognized as a global leader in the development of sustainable products that have redefined how international, national, state and local code writers specify products that require zero energy and are recyclable to enhance human and wildlife safety; some products qualify for LEED credits. Jessup is committed to the continued innovation of materials and products in ways that deliver quality performance while also protecting the environment.
Jessup began manufacturing skateboard griptape in the mid-1970s. Through years of scientific research and product innovation, Jessup griptape set industry standards for performance and skater safety. Chemicals that cause cancer, birth defects or other reproductive health issues are not used in Jessup griptape – long before the passage of 1986 California Prop 65 that required manufacturers to provide warning labels to that effect.
"Our commitment is and always will be to the skater," Jessup said, adding that partnering with USAS during an event the magnitude of the Olympics is exciting, "What really drove our decision to work with USAS was its mission. And that reaches far beyond the Olympics."
Jessup cited the USAS' commitment to adaptive skateboarding and WCMX, and the inclusion of all people who consider skateboarding a sport, a passion and a lifestyle. "We're excited about developing and supporting programs that introduce and encourage more people to participate in the sport."
While terms of the partnership agreement are confidential, both Jessup and Friedberg confirmed the organizations will collaborate on printed griptape designs that will be offered exclusively through USAS and Jessup retail channels. The Jessup Griptape Family currently includes Jessup® The Original®, ULTRAGRIP®, the Signature Series® of griptape art created by skaters for skaters; the Jessup Printed Series of griptape, and Roam® for longboards. Jessup will add three additional griptape products within the next year.
ABOUT JESSUP MANUFACTURING
Founded in 1956, Jessup Manufacturing Company has grown into a global manufacturer of adhesive coated films. The company is recognized worldwide for its world-class service, support and product quality provided to a growing customer base that includes the national defense, healthcare workers and first responders, as well as the pharmaceutical, food processing, chemical, action sports, transportation sectors (aerospace, automotive, rail, marine), energy, architecture, construction, advertising and safety graphics media diversified manufacturing markets. Jessup was deemed an essential manufacturer and has remained open during the pandemic. Jessup is currently expanding its McHenry operations by 30,000 square feet and increasing its material coating capacity by almost double. The company is actively hiring. In additional to its griptape product line, Jessup's global brands include Solve+MakeTM, Jessup's service for making application-specific adhesive coated films; Safety Track® non-slip tapes and treads; Glo Brite® photoluminescent films and exit signs; Asphalt Art® and TexWalk® media for printed graphics. Visit jessupmfg.com for more company information.
ABOUT USA SKATEBOARDING
USAS was established to provide direction and governance for the sport of skateboarding, including, but not limited to, enabling United States athletes to achieve sustained competitive excellence in Olympic, Paralympic, Pan American and Parapan American competition and sanctioning competitions resulting in United States National Champions at both the amateur and professional level. USAS is dedicated to promoting and supporting the sport of Skateboarding, while striving to guarantee that Skateboarding continues to provide the unique characteristics important to the sport's participants, and maintaining the integrity and authenticity of Skateboarding as a sport, a passion and a lifestyle. Visit usaskateboarding.net for additional information about the organization and membership opportunities.