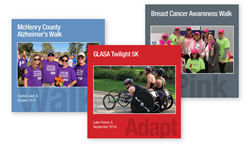 "I'm thrilled to announce that we have completed our sixtieth event - ahead of schedule."
MCHENRY, Ill. (PRWEB) July 09, 2020
In 2016, Jessup Manufacturing Company celebrated its 60th Anniversary by launching "60 Ways in 60 Months", a corporately sponsored community leadership program in which the organization and its employees were encouraged – not required – to volunteer time and donate resources to specific events.
"I'm thrilled to announce that we have completed our sixtieth event - ahead of schedule," said Robert A. Jessup, third-generation owner of Jessup Manufacturing and strong advocate for the "60 Ways in 60 Months" program of giving back.
Jessup, who also serves on the McHenry Economic Development Council (MEDC), said, "To be honest, there were times I wasn't sure we'd make it. We're a small but growing manufacturing company with about a hundred employees. The team really stepped up. Even more rewarding is all the feedback we received. I never imagined the impact a program like this would have had; and not just on the people we helped, but on our employees. To say I'm proud is a significant understatement."
When it came time to select the final event, Jessup wanted to recognize the efforts of his employees while also continuing to support the McHenry and Lake County communities in which Jessup has its operations. Jessup Manufacturing is headquartered in McHenry; and has manufacturing plants in McHenry and Green Oaks.
In his leadership role with the MEDC, Jessup has seen first-hand the negative economic impact the COVID-19 pandemic has had on the community, especially locally owned and operated small businesses. He decided a great way to achieve both goals of rewarding employees and supporting the community would be to purchase $7,500 worth of gift cards from the employee's choice of selected restaurants and businesses – or, give the employee the option of having Jessup make a $50 donation on the employee's behalf to a food pantry. Worth noting, 15% of employees opted to donate to food pantries.
"Our community has been hit hard," said Mayor Wayne Jett of McHenry. "McHenry is a resilient community and we will come back. One of the reasons I'm confident is great corporate citizens like Jessup Manufacturing and the support of entire the Jessup family."
"Green Oaks Mayor Bernard Wysocki echoed, "We are grateful for all Jessup Manufacturing does to support our community. As we transition into recovery mode from the pandemic, gestures such as Jessup's will help us recover faster."
ABOUT JESSUP MANUFACTURING
Founded in 1956, Jessup Manufacturing Company has grown into a global manufacturer of adhesive coated films. The company is recognized worldwide for its world-class service, support and product quality provided to a growing customer base that includes the national defense, healthcare workers and first responders, as well as the pharmaceutical, food processing, chemical, action sports, transportation sectors (aerospace, automotive, rail, marine) energy, architecture, construction, advertising and safety graphics media diversified manufacturing markets. As such, Jessup was deemed an essential manufacturer and has remained open during the pandemic. Jessup is currently expanding its McHenry operations by 30,000 square feet and increasing its material coating capacity by almost double. The company is actively hiring.
Jessup brands include Solve+Make™, Jessup's service for making application-specific adhesive coated films; Safety Track® non-slip tapes and treads; Glo Brite® photoluminescent films and exit signs; Asphalt Art® and TexWalk® media for printed graphics; and Jessup Griptape® for skateboards. Jessup has two manufacturing plants in McHenry and Lake Bluff, Illinois. Visit jessupmfg.com for more company information.