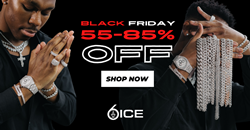 BOCA RATON, Fla. (PRWEB) November 22, 2022
Designer jewelry company 6 ICE announced their Black Friday sale with some of the best deals of the year going live for the holiday weekend. 6 ICE will be offering up to 80% off their collection of hip-hop chains, pendants, bracelets, and earrings. Their mission has always been to provide high-quality pieces at an obtainable price, but with major savings on the horizon, now is the perfect time to purchase any items that you have been coveting.
6 ICE jewelry is committed to producing the finest quality pieces for an outstanding value. Their materials are certified 14-18 karat gold, 925 sterling silver, and genuine rhodium. Pendants and chains are created using hand-set CZ stones that are placed along a micro pave setting and their earrings are made using real diamonds. They have a set of quality standards that all of their pieces must meet which ensures that their products will stand the test of time. They utilize the most cutting-edge technology in the industry to create pieces that are comparable to what you would see hip-hop stars wearing in their music videos. 6 ICE has a mission to make these typically unobtainable pieces accessible to as many people as possible.
This Black Friday, take advantage of 6 ICE's already affordable prices with their biggest sale of the year. Get some designer jewelry around your neck this holiday season or start your Christmas shopping ahead of time with up to 80% off at the 6 ICE Black Friday sale for 2022.
###
About 6 ICE: 6 ICE is a designer jewelry company that specializes in sourcing the latest trends in urban fashions and street culture. They create their hip-hop chains, pendants, bracelets and earrings using the most cutting-edge technology in the industry to create pieces that capture the spirit of the music that they love. Their products include the highest quality of materials all while keeping prices to a minimum.