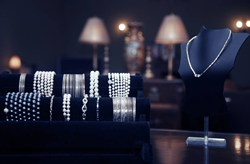 Named by Forbes Magazine as their 'Favorite Online Jeweler', Blue Nile once again earns our highest ranking among jewelry stores in 2020,
OVERLAND PARK, Kan. (PRWEB) December 29, 2020
TopConsumerReviews.com once again recognized Blue Nile as the preferred site for buying Jewelry, continuing the company's best-in-class track record among online retailers.
In a time when so many shoppers are relying on the internet, people may wonder if it's safe to buy jewelry online. The resounding answer is "yes!" Not only do most of the well-known brick-and-mortar retailers offer bracelets, earrings and necklaces galore through their internet storefronts, but there are also many online-only companies that sell jewelry at very competitive prices — largely because they don't have the overhead that comes from having in-person locations. Plus, shopping online for jewelry can be much more enjoyable, as customers can browse whenever they like and for as long as they wish, without being uncomfortable under the gaze of a too-eager salesperson.
"Named by Forbes Magazine as their 'Favorite Online Jeweler', Blue Nile once again earns our highest ranking among jewelry stores in 2020," confirmed Brian Dolezal of TopConsumerReviews.com, LLC. "What makes this retailer so popular? In two words, selection and service. At Blue Nile's warehouse, located in Seattle, they carry more inventory than you'd find if you visited hundreds of brick-and-mortar jewelry stores. That's no exaggeration: the store offers over 100,000 loose diamonds, thousands of options for pendants and earrings, and that's just the tip of the iceberg. And, any time of day or night, 365 days a year, Blue Nile's customer service team stands at the ready via live chat or toll-free number, to help with any questions or concerns you may have. Finally, this retailer's free shipping and free returns within 30 days of purchase, along with a price match guarantee on diamonds, demonstrate their commitment to their customers — many of whom have used Blue Nile for all of their jewelry purchases over the years. We're pleased to name this retailer as our 2020 winner among online jewelry stores: another first-place finish for Blue Nile!"
To find out more about Blue Nile and other Jewelry Stores, including reviews and comparison rankings, please visit the Jewelry Stores category of TopConsumerReviews.com at https://www.topconsumerreviews.com/best-jewelry-stores/.
About Blue Nile
Blue Nile, Inc. is the largest online retailer of certified diamonds and fine jewelry. The company offers a superior experience for purchasing engagement rings, wedding rings, and fine jewelry by providing expert guidance, in-depth educational materials, and unique online tools that place consumers in control of the jewelry shopping process. Blue Nile has some of the highest quality standards in the industry and offers thousands of independently-certified diamonds and fine jewelry at prices significantly below traditional retail.
About TopConsumerReviews.com
TopConsumerReviews.com, LLC is a leading provider of reviews and rankings for thousands of consumer products and services. From Jewelry Stores to Loose Diamonds and Chocolate Clubs, TopConsumerReviews.com delivers in-depth product evaluations in order to make purchasing decisions easier.