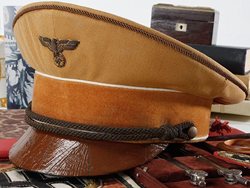 SOLANA BEACH, California (PRWEB) September 24, 2019
Former Pawn Stars expert Craig Gottlieb hopes his million-dollar investment in Adolf Hitler's uniform pays off big when they go up for auction in Germany this weekend, on September 28th.
According to a Wall Street Journal article published in 2014, Gottlieb paid a Long Beach, California collector well over $1 million for the lot. Considered one of the most expensive collections of military artifacts ever to trade hands when Gottlieb purchased it that year, the group is not without controversy, and for good reason. Known for dealing in artifacts pertaining to other notorious figures such as Saddam Hussein, Charles Manson and Benito Mussolini just to name a few, Gottlieb has been deeply criticized by many for profiting off the holocaust.
Gottlieb, who is Jewish by descent with direct ties to victims of the holocaust, feels differently.
"Artifacts are a critical cornerstone of understanding history, both good and bad. "I hope a museum ends up with the group, but I'm realistic. Unless a donor shows up to the auction, the items will likely flow into the hands of a collector."
The uniform, which includes Hitler's hat, a brownshirt and medals, were found in Hitler's apartment in Munich at the end of the war by a Jewish officer, U.S. Army Lieutenant Joseph Ben Lieber. Upon his return from Europe, Lieber, who was from Louisiana, posed with the artifacts in the Shreveport News. Lieber kept the items until they were stolen by his ex-wife in the 1960s and sold to an antique dealer. With an unbroken chain-of-custody, the objects were eventually returned to Lieber who resold him to an auction company in the 1970s.
The items are being auctioned by German auctioneer Andreas Thies, who notes that Napoleon's hat brought $2.4 million at an auction in 2014.
"Napoleon was an important part of European History, but Hitler changed the face of World History," he said from his offices in Germany. "There's a big difference, and I believe the hammer price will reflect that."
Thies runs http://www.militariaauctions.net, and has been doing business since 1985.