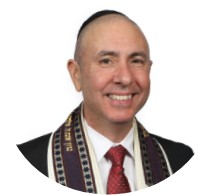 "The sound of a shofar reminds us that there is so much work to be done to make this world a better place," notes Rabbi Mass.
NEW YORK (PRWEB) January 03, 2023
On December 17 the Jewish Spiritual Leaders' Institute ordained its 23rd Class of clergy on zoom. Serving on the Bet Din (a religious court composed of three Rabbis) with Rabbi Steven Blane, Founder and Dean of JSLI, were Rabbis Anibal Mass of Winnipeg, Canada and William "Billy" Love of Philadelphia, PA. Both have recently distinguished themselves by being honored in their communities.
As part of Canada's relationship to England each province appoints a Lieutenant Governor. The invocation for Manitoba's first Jewish Lieutenant Governor, Anita Neville was made by JSLI trained Rabbi Anibal Mass of the Shaarey Zedek Congregation, who followed it by sounding the shofar (ram's horn).
"It's a sound that reminds us that there is so much work to be done to make this world a better place," notes Rabbi Mass.
Additionally on December 13th Bet Din JSLI trained Rabbi William "Billy" Love was awarded the Herbert R. Weiman Sr. & Jr. award by the Family Law Section of the Philadelphia Bar Association at it's annual Reception and Award Ceremony. Love has served as Chief Hearing Office of the Emergency Protection from Abuse Unit at the Philadelphia Municipal Court for decades. As well, Rabbi Love has spent his life doing good deeds and acts of service to his local and Jewish communities.
ABOUT JSLI AND SIM SHALOM
Sim Shalom is an interactive online Jewish Universalist synagogue which is liberal in thought and traditional in liturgy. Created in 2009 by Rabbi Steven Blane on Manhattan's Upper West Side, Sim Shalom offers a means of connecting the unconnected. Rabbi Blane leads accessible Shabbat services every Friday night using a virtual interface and additionally Sim Shalom provides online education programs, Jazz concerts, conversion and life-cycle ceremonies along with weeknight services at 7:00PM EST led by Rabbis of this online community.
Rabbi Blane is the founder and director of the Jewish Spiritual Leaders' Institute, the online professional rabbinical program and of the Union of Jewish Universalist Communities, http://www.ujuc.org.
Sim Shalom, a non profit 501 © (3) tax-exempt organization, nurtures a Jewish connection through its mission of innovative services, creative education and dynamic outreach to the global community. For more information visit https://simshalom.com or call 201-338-0165.