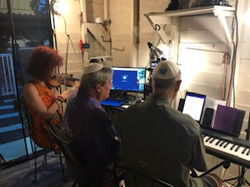 Rabbi Steve Blane, Founder and Dean, says, "Why not an online reunion.? Virtual is the way of the future and has worked well for our to date 150+ ordained Rabbis and Cantors."
NEW YORK (PRWEB) March 05, 2019
Jewish Spiritual Leaders' Institute (JSLI) and Rabbi Steve Blane made history with its first 5-hour online reunion. JSLI classes are all online and alumni hail from North America, Europe, Australia, Israel and Japan making an in-face reunion costly and challenging for folks to attend.
Rabbi Steve Blane, Founder and Dean, noted, "Why not an online reunion.? Virtual is the way of the future and has worked well for our to date 150+ ordained Rabbis and Cantors." Always a visionary Blane founded JSLI and the online synagogue, Sim Shalom, after serving in brick and mortar congregations for years. He realized the real unmet need in the Jewish world and developed JSLI as a pragmatic approach to training clergy to serve interfaith and unaffiliated Jews.
The day included worship, time for sharing and networking as well as 5 well-crafted presentations: Jacob's Burial Cave and Samuel's Presence in Sheol by Reb Simcha Raphael, Ph.D.; Connect Beyond the Internet...Neurospirituality and Judaism with Rabbi Nancy Tunick; How to Play Ukulele with Services with Rabbi Steve Blane;
Rabbinic Resources including Social Media presented by Rabbi Deborah Reichmann; and Pastoral Care Concerns - Rabbi Ken Hahn. To read more about them visit http://www.ujuc.org or http://www.jsli.net.
Rabbi Blane was thrilled with the turnout of one fifth of the student and alumni body. Another one fifth responded and could not join the activities as they were busy performing Rabbinic duties in their communities.
About JSLI, Rabbi Blane and Sim Shalom:
Rabbi Steven Blane is the founder and director of the Jewish Spiritual Leader's Institute, http://www.jsli.net, the online professional rabbinical program and the Union of Jewish Universalist Communities http://www.ujuc.org an association of Rabbis who support Jewish Universalism.
Sim Shalom is an interactive online Jewish Universalist synagogue which is liberal in thought and traditional in liturgy. Created in 2009 by Rabbi Steven Blane, Sim Shalom offers a means of connecting the unconnected. Rabbi Blane leads accessible and short Shabbat services every Friday night using a virtual interface and additionally Sim Shalom provides online education programs, Jazz concerts, conversion and life-cycle ceremonies along with weeknight services at 7:00PM EST led by Rabbis and students of this online community.
Sim Shalom, a non profit 501 © (3) tax-exempt organization, nurtures a Jewish connection through its mission of innovative services, creative education and dynamic outreach to the global community. For more information visit http://www.simshalom.com or call 201-338-0165.