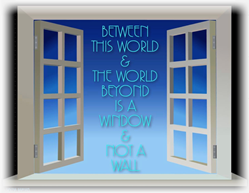 "Between this world and the world beyond is a window and not a wall." Reb Simcha Raphael Ph.D.
NEW YORK (PRWEB) June 16, 2020
This spring on three Tuesday evenings the Jewish Spiritual Leaders' Institute and Da'at Institute teamed up to offer continuing education to JSLI alumni and current students. Reb Simcha Raphael, PhD of Da'at Institute offered a series entitled "Jewish Views of the Afterlife: Philosophical Belief and Pastoral Applications."
The three-session online class was well attended and combined study of traditional afterlife texts with contemporary pastoral care. Reb Simcha synthesized Jewish afterlife teachings and traditional death rituals with recent approaches to the psychology of death and dying. The course goal was to delineate how Jewish teachings on life after death provide meaningful pastoral perspectives on end-of-life rituals, an expanded skill set for working with the dying and bereaved, and new ways of teaching and talking about afterlife. "Between this world and the world beyond is a window and not a wall." Reb Simcha Raphael Ph.D.
Jewish Spiritual Leaders' Institute is an online rabbinic and cantorial school developed by Rabbi Steve Blane that has ordained over 150 Rabbis and Cantors. The ordination of its 18th Class is scheduled for June.
About Sim Shalom and JSLI:
Founded by Rabbi Steven Blane, http://www.rabbi.net, Sim Shalom is an interactive online Jewish Universalist synagogue, liberal in thought and traditional in liturgy, http://www.simshalom.com.
Rabbi Blane is also the founder and director of the Jewish Spiritual Leaders Institute,
http://www.jsli.net, the online professional rabbinical program and the Union of Jewish Universalist Communities, http://www.ujuc.org, which is a professional association of Rabbis.
Sim Shalom, a non profit 501 (c) 3 tax-exempt organization, nurtures a Jewish connection through its mission of innovative services, creative education and dynamic outreach to the global community. For more information visit our website or call 201-338-0165.
About Da'at Institute
Reb Simcha Raphael, Ph.D. is Founding Director of the DA'AT Institute for Death Awareness, Advocacy and Training. Ordained as Rabbinic Pastor by Rabbi Zalman Schachter-Shalomi, he is Adjunct Professor in the Department of Religion and Theology at LaSalle University, Faculty in the New York Open Center Art of Dying Institute, and a psychotherapist and spiritual director in Philadelphia. A Fellow of the Rabbis Without Borders network, he is author of numerous publications on death and dying including the classic study Jewish Views of the Afterlife. His website is http://www.daatinstitute.net.