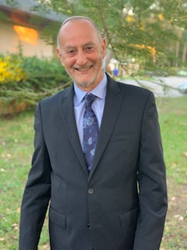 Rabbi Steve Blane creates a pragmatic rabbinic program for Jewish professionals who have always wanted to be a Rabbi or Cantor.
DELRAY BEACH, Fla. (PRWEB) January 15, 2019
On January 5th in Delray Beach, Florida 5 candidates joined the 151 strong alumni of the Jewish Spiritual Leaders' Institute. The school is Rabbi Steve Blane's pragmatic response to the training of the modern clergy and students hail from all over the US and the world. This class comes from Maine, Michigan, New Jersey, Long Island and Florida. Each brings a unique style to their work, have been involved as Jewish professionals and all have a passion to serve and do good work.
Students in the program meet online weekly, doing coursework prior to each session and write a d'var they share with one another. The ordination shabbaton weekend gives them the opportunity to meet in person and confer with the three (3) Rabbis who make up the Bet Din. At the end of a weekend of study and prayer the Bet Din conveys S'micha.
ABOUT JSLI AND SIM SHALOM:
Sim Shalom is an interactive online Jewish Universalist synagogue which is liberal in thought and traditional in liturgy. Created in 2009 by Rabbi Steven Blane on Manhattan's Upper West Side, Sim Shalom offers a means of connecting the unconnected. Rabbi Blane leads accessible and short Shabbat services every Friday night using a virtual interface and additionally Sim Shalom provides online education programs, Jazz concerts, conversion and life-cycle ceremonies along with weeknight services at 7:00PM EST led by Rabbis and students of this online community.
Rabbi Blane is also the Founder and Dean of the Jewish Spiritual Leader's Institute, http://www.jsli.net, the online professional rabbinical program and the Union of Jewish Universalist Communities http://www.ujuc.org.
Sim Shalom, a non profit 501 © (3) tax-exempt organization, nurtures a Jewish connection through its mission of innovative services, creative education and dynamic outreach to the global community. For more information visit http://www.simshalom.com or call 201-338-0165.