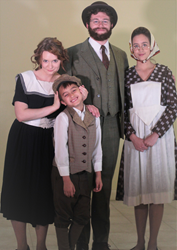 "The treatment of the stage script turns the idea of raging, blind hatred into what it is: an absurdity. Absurdities are funny because they turn logic and reason upside down." ---Writer/ Producer Jay Kholos
CINCINNATI, OHIO (PRWEB) May 15, 2017
A new musical that one New York producer called a "true theatrical masterpiece" will make its world premiere in Cincinnati on Saturday, May 27 and Sunday, May 28, 2017 at the Aronoff Center, 650 Walnut Street, in Cincinnati. Broadway bound Jew Store (the musical) is based on the best-selling family memoir, The Jew Store, by Stella Suberman. Written, produced and directed by veteran theater producer Jay Kholos, "Jew Store (the musical)" tells the inspiring story of a Jewish family's journey from the pogroms in Russia to the teeming tenements of New York, circa 1920, and eventually to a small Southern town in Northwest Tennessee, where most residents had never before met a Jew. The Bronson family finds itself face-to-face with the town's curious residents (and assorted local KKK members) who have dubbed the family's dry goods store the "Jew Store."
"We're excited by the incredible buzz that the show is already generating throughout New York's theatre community," says Kholos, whose theater credits include "A Stoop on Orchard Street", "Golda's Balcony" and "Old Jews Telling Jokes." "Jew Store (the musical) is an immigrant's tale, one that evokes universal themes of the struggles of acculturation, acceptance, tolerance, assimilation and the tenacious pursuit of the American dream."
The production features 19 original songs and a cast of over a dozen actors, singers and dancers. Following its world premiere in Cincinnati, the show is expected to travel to Atlanta, South Florida and Philadelphia before beginning its New York run.
Jew Store (the musical) will be presented at the Aronoff Center on Saturday, May 27 at 2 pm and 8 pm; and on Sunday, May 28 at 2 pm. For tickets and information, call (513) 621-2787 (ARTS). For online tickets, go to: CincinnatiArts.org. For discounted ticket prices on groups of 12 or more, call the Box Office at (513) 621-2787 (ARTS).
For more information on Jew Store (the musical), please visit jewstorethemusical.com.
On YouTube: https://www.youtube.com/watch?v=CYv0LX_oma0
Q&A with Writer/Producer/Director Jay Kholos
Q: Why did you want to adapt Stella Suberman's book, "The Jew Store", for the stage?
A: At first, I was intrigued by the title, "The Jew Store." It certainly got my attention because it feels like a cold, hard slap in the face. Then, the more I became familiar with the story—which takes place in rural 1920s America— the more I could see how pre-conceived prejudices and baseless biases against others we don't even know or never even met rise up and fester in every generation—despite the lessons of history.
Q: And yet, you say this stage adaptation is a musical comedy?
A: Absolutely. This treatment of the stage script turns the idea of raging, blind hatred into what it is: an absurdity. And absurdities are funny because they turn logic and reason upside down. There is humor in that because the very notion of hating someone simply because they are an "other" (i.e. not like them) makes absolutely no sense whatsoever. So the script treatment —and certainly the songs —magnify and even distort the absurdities through even greater illogicalities.
Q: Hmmm...can you explain that a little more?
A: Sure. In the show, there is one song entitled, "Our Jews." It is sung by the townspeople of Concordia, Tennessee —who had never seen a Jew before the Bronson family came to town to open their dry goods store. The townspeople sing this song as the Bronson family prepares to move back to New York:
"Our Jews are the best Jews,
because they're our Jews,
we saw them first.
Those Jews, those over there Jews,
they're not like our Jews,
the best on earth..."
Now just think of how absurd that is in its truism! Here you have all the townspeople who come to sing the praises of THEIR Jews (i.e. the ones they have come to know and like over time.) Yet still, they persist in their distrust and dislike of those "over there" Jews because somehow, the prejudices they were raised on still apply to any Jew they don't know. Magnifying the absurdity causes us to laugh at it — exposing racism and bigotry for what they really are. Songs such as "Mr. Jew"," A Glass of Tea with the Rabbi's Wife" and "Hurtin'", also convey both the comedic and well as dramatic flow of the show.
Q: How long did it take you to write the script and all the songs?
A: Once I acquired the theatrical rights from Algonquin Books, which first published Suberman's memoir in 1998, I went down into my basement office and began to write...and write...and write. When I am writing, either the script or the songs, I get into a zone and that's what happened with Jew Store (the musical). It was quite intense, but extremely rewarding. Two months later, I came up for air with the script and the songs.
Q: Are you a musician as well as a writer?
A: I am a musician to the extent that I write the words and the music. I think about the characters and the placement and focus of the songs that move the story along. I actually start to hear the songs in my head and the lyrics start to flow. My brilliant musical arranger, Scott Neubert, takes it from there.
Q: What does Ms. Suberman think of your stage treatment of her memoir?
A: I sent her the script and she called to say that she and her family just loved it. I was so glad to hear it because as you can see, I have certainly taken some creative license with the story to deepen its romanticism and turn it into the musical comedy that it is.
Q: The show will have its world premiere in Cincinnati. Why Cincinnati?
A: Cincinnati is a fabulous town with a very rich, diverse and vibrant arts scene. Tickets are selling extremely well! Cincinnati was America's largest center of Jewish life in the mid-19th century— and has a 170-year history of welcoming Jewish immigrants from throughout the world. It is a true mid-American melting pot.
Q: Where will the show go from there?
A: After opening Cincinnati, our plan is to travel to Atlanta, South Florida and Philadelphia before beginning our New York run. There has already been quite a lot of buzz about this show in the New York theater community —with one producer even saying that "this could become a major musical of our time." We know it has that potential!
INQUIRIES: 513.543.8109
MEDIA: For more information or to schedule an interview, please contact Joyce Kamen at 513.543.8109; or Manda Hurdelbrink at 513.324.8610.