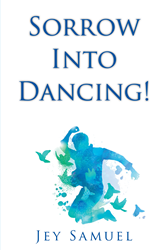 MEADVILLE, Pa. (PRWEB) January 06, 2023
"SORROW INTO DANCING!": a heartfelt message of hope, understanding, and encouragement. "SORROW INTO DANCING!" is the creation of published author Jey Samuel, a dedicated husband, father of three, and native of India who later settled in California. He received his Bachelor of Architecture from the University of Madras, India and his Master of Architecture from Pratt Institute, New York.
Samuel shares, "Each chapter in the book is a story of its own. The stories of the author going through various circumstances seem baffling at first but always brings him out on top in the end. There is always sadness to overcome, but ultimately, he feels happy and feels like dancing. The very circumstances that seem to entrap him and make him a victim but eventually develop him into the victor. Each chapter threads a similar theme.
"This book is written to begin at any chapter, start in the middle or the beginning or just jump into the end. You may even choose to read a favorite chapter over and over. These stories will boost you up and get you into a happy mood. This is an untraditional book, in that, each chapter is a story within itself with its own ending.
"If you are facing tough times, disappointments, or discouragements, this is the book for you. Learn how to change your mindset and watch your heart change too. Even the impossible things can become possible. You'll be amazed; watch it happen. Keep this book on your bookshelf for years to come, or pass it on to another person in need of a new mindset, and you'll also have them dancing.
"Even though the book goes through the author's life from an early start to more recent years, you will discover at every stage of life that there could be challenges, how things could change, dreams and visions can change every circumstance, and you can come ahead no matter what. Whatever age you are, it doesn't matter. Change your mindset, change your heart-set too; live out your dream.
"These stories will boost you up, just like your favorite song that you keep playing over again and over again. This book may uplift you for years to come. Enjoy the read!"
Published by Christian Faith Publishing, Jey Samuel's new book will resonate with many as they reflect on the key moments that have shaped and guided the author to his current state.
Dr. Geeta Swamidass, Executive Director of Living Well Medical Clinics shares, "It is the amazing story of one young man's journey to find fulfillment in life, work and studies. Jey has beautifully woven his and others' stories to make them very easy to read and understand. There are powerful answers to depression, loneliness, and fear. Jey has an amazing skill of being able to draw us deeper and deeper into his story, and pretty soon, you feel you are sitting right next to him as he shares his story. He is gifted in remembering the details of many years ago, and he is able to craft it into a story that excites, challenges, and engages us, and we begin to feel that we are part of the story itself. I totally identify with his story and highly recommend it to anyone on life's path."
Don Apgar, Director of International Students Inc. in Orange County shares, "Jey Samuel will show you how to overcome adversity, cope with new situations, and feel awesome when you could be overwhelmed. It is full of interesting stories, which make it an easy read. A book you must read!!"
Consumers can purchase "SORROW INTO DANCING!" at traditional brick & mortar bookstores, or online at Amazon.com, Apple iTunes store, or Barnes and Noble.
For additional information or inquiries about "SORROW INTO DANCING!," contact the Christian Faith Publishing media department at 866-554-0919.