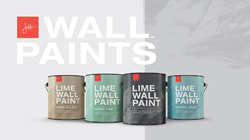 "The unique beauty of our lime wash is unparalleled by traditional paint. It was developed to create a matte, velvety finish that is luminescent."- Jeremy Harnish, Owner of JH Wall Paints
SAN JUAN CAPISTRANO, Calif. (PRWEB) October 19, 2020
JH Wall Paints is pleased to announce the launch of its first Lime Wash paint collection that promotes healthy and environmentally conscious living. Inclusive of Lime Wall Paint, Mineral Prime, Mineral Wall Stain, and Matte Wall Sealer, JH Wall Paints' Lime Wash collection provides customers with all of the materials they need to easily apply beautiful color and soothing texture to their walls.
"To launch our business during a pandemic has been a challenge, but also a huge opportunity as more people are spending enormous amounts of time in their living spaces. We are thrilled to launch our premium lime wash paints and give our clients appealing aesthetics, as well as an organic alternative. The unique beauty of our lime wash is unparalleled by traditional paint. It was developed to create a matte, velvety finish that is luminescent," said Jeremy Harnish, owner of JH Wall Paints.
A skilled artisan and licensed painting contractor, Jeremy Harnish has spent over 20 years working with talented interior designers throughout Southern California, creating lime-based finishes for a variety of projects. Having noticed the absence of a lime wash paint that mirrored the aesthetic and health benefits of a Venetian plaster, Jeremy Harnish and his wife Michele spent the last few years perfecting a product that offers his clients and customers a high-quality solution that can do just that.
JH Wall Paints' Lime and Mineral products are made with all-natural ingredients that are as healthy and hygienic as they are luxurious and soothing. The brand does not use any synthetic fillers or additives but uses Earth mineral pigment powders to colorize their paints. A highly breathable product, JH Wall Paints is made with ingredients that protect your living space by averting moisture and humidity. The Alkaline pH of JH Wall Paints also ensures that the surface is equally hygienic, antifungal, anti-mold and antibacterial. When applied, it absorbs and removes odorous and harmful carbon dioxide from the air in the curing process, thus improving interior air quality.
Created to be applied with a brush and roller, JH Wall Paints' Lime Wash products are easy to use and are a high-quality solution for designers, builders and DIY enthusiasts that love the unique beauty and texture of Lime Wash paints, but also prioritize the health of their living spaces.
For more information about JH Wall Paints, please visit https://www.jhwallpaints.com.