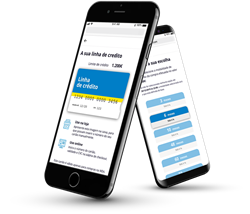 The platform bridges the gap between retailers, consumers, and lenders by offering a zero-integration platform. The focus is to make banks' financing options easily available at any point of sale, without the hassle and complexities of integration processes
COLUMBUS, Ohio (PRWEB) January 23, 2020
Jifiti announced today that its no-integration point of sale credit solution is officially available for merchants and banks in Portugal. The platform enables banks and lenders, via a single integration, to launch a fully branded POS financing solution for any retailer without further IT or integration resources. The turn-key solution includes a fully customizable front end for customers while enabling lenders to easily scale their point of sale lending business with a quick to market time for any retailer.
Jifiti's seamless point of sale credit solution, through the use of virtual card technology, is already being used by global retail brands and leading banks across Europe and the US. It drastically shortens the lengthy and complex process of integration when implementing a POS financing solution both online and in-store.
Banks and lenders are able to utilize the platform to scale their loan program by onboarding and launching a POS loan program for any merchant within a matter of days. Leading European banks are already offering loan programs at merchants' point of sale via the Jifiti platform.
Merchants enjoy the benefit of increasing sales both online and instore by offering a fully branded pay-over-time solution without the need to dedicate IT resources or implement new hardware. Through Jifiti's partnership with Mastercard, funds are seamlessly transferred to the merchant as a regular transaction no matter what type of point of sale system is used.
"We're proud to be partnering with world-class retailers and banks in the European market." shared Yaacov Martin, Co-Founder, and CEO at Jifiti. "Together we are bridging the gap between retailers, consumers, and lenders by offering a zero-integration platform. The focus is to make banks' financing options easily available at any point of sale, without the hassle and complexities of integration processes."
Simon Forbes, Senior Vice President, Business Development, Merchants at Mastercard Europe added: "We are delighted to collaborate with Jifiti in Europe as this partnership allows us to deliver seamless check-out financing experiences for consumers. Jifiti's ease of integration with both retailers and lenders, coupled with Mastercard's virtual prepaid card technology, enables consumers to make purchases, manage finances, and pay-overtime through instantly approved installment loans. It's a win-win for all the stakeholders."
About Jifiti
Jifiti is an emerging fintech company with offices in Columbus, Ohio and Israel. Its proprietary financing platform is changing the way lenders and retailers implement consumer financing at the point-of-sale. The end-to-end solution works seamlessly with any existing POS or e-commerce system, eliminating the integration process between lenders and the retailer's systems. Jifiti operates in North America and Europe, supporting global retail brands and financial institutions. Learn more about Jifiti at http://www.jifiti.com