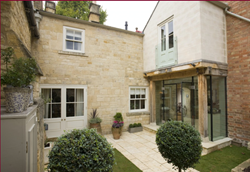 Singer Cottage is a Grade II listed building offering the beauty of a stylish interior while maintaining its original features
Witney, United Kingdom (PRWEB) August 14, 2014
Luxury Cotswold holiday cottage rental agency Jigsaw Holidays, today introduces Singer House as the latest addition to its portfolio of premium properties available for short and medium-term holiday rental. More information about Singer Cottage can be found at http://www.JigsawHolidays.co.uk/cotswold-cottages/singer-house/.
Nestled in the picturesque town of Chipping Campden, Singer Cottage is a Grade II listed building offering the beauty of a stylish interior while maintaining its original features. Located in the heart of the market town, Singer House provides the relaxation of a country home whilst being accessible to all local conveniences. The three-bed, three-bath home is surrounded by a range of delicious bakeries, restaurants and delicatessens. Positioned at the start of the popular Cotswold Way, guests can explores peaceful walks through neighbouring towns and villages all the way to Bath Spa.
Jigsaw Holidays representative Anna Phillips commented, "The Cotswolds provides the ideal getaway for those seeking a peaceful break in the country." She added, "Singer House provides the perfect mix of elegance and modernity, resulting in a truly luxurious stay."
"With the recent wonderful weather, we've seen an increase in people choosing to holiday in England", explained Ms Phillips, "and Singer House is centrally located in one of the most picturesque towns in the Cotswolds."
The home is fully fitted with all mod-cons; TV with Sky plus a DVD player, WiFi, iPod docking station as well as a dishwasher and washer/dryer. The home's modern fittings and antique furnishings create a homely feeling for guests. The high quality finish can be appreciated in each room; from the old stone archways to the frameless glass kitchen. The panelled bay windows provide guests with a lovely spot to relax in the sun, while in winter the living room boasts a beautiful limestone fireplace.
The first bedroom hosts an exquisite antique French double bed and built-in wardrobe. While the second bedroom boasts a glass Juliet balcony overlooking the rear garden and is available with either a twin or double bed. Across the landing lies the main bathroom with steel bathtub, railhead shower and bespoke vanity cabinet. The large master bedroom suite provides total luxury with a king size bed and antique furniture set in a beautiful high-ceilinged room. The en-suite shower room even has a luxurious roll top bath adjacent to a fireplace for guests to fully relax.
With the home's position in in such a beautiful area of the Cotswolds, garden and history lovers can take full advantage of the National Trust properties on offer in the area. Guests can also enjoy day trips to the nearby historic towns of Oxford, Shakespeare's Stratford Upon Avon and Roman Bath.
In addition to the facilities offered by the property itself, Jigsaw Holidays can also provide guests of Singer House with catering, concierge, childcare and taxi. The cost for one-week rental at Singer House starts at £995 and short breaks from £647. More information about this property can be found on the Jigsaw Holidays website at http://JigsawHolidays.co.uk.
About Jigsaw Holidays
Jigsaw Holidays is a holiday booking agent specialising in the provision of superior quality cottages and character properties for rental in the Cotswold, Gloucestershire, Dorset and Oxfordshire, UK.
Each property is personally inspected before being offered for rental and the company has extensive local knowledge to draw from when helping to plan holidays for their clients.
Jigsaw Holidays was established in 2007 and is based in Witney, Oxfordshire - UK. More information about Jigsaw Holidays and Singer House can be found on the Jigsaw Holidays website: http://www.JigsawHolidays.co.uk.