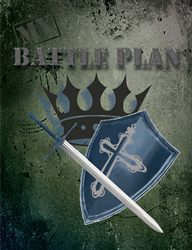 "This journal is designed to be a companion to equip you with the armor of God by understanding yourself, God, and his love letter that is scripture through habitual study… a journal to help you navigate life by understanding yourself and how scripture and God provide pivotal roles in your life."
MCLEAN, Va. (PRWEB) January 25, 2020
When reading the Word of God without any distractions—which comes in the form of social media, other people in the room, and more—people can learn to leave themselves open to their inner vulnerability. Thus, the Lord can work through them to achieve spiritual growth. In the end, readers realize that He has been with them the entire time and always will be. Encouraging people to embrace this kind of companionship is what Jillian Lasecki intended by writing My Battle Plan, a new devotional which also functions like a journal.
Many devout worshipers are not as skilled when it comes to expressing their thoughts or praying out loud, but can do so via the written word. Moreover, artistic activities like journaling allow people to reflect on their lives. "This journal is designed to be a companion to equip you with the armor of God by understanding yourself, God, and his love letter that is scripture through habitual study of scripture. It is a journal to help you navigate life by understanding yourself and how scripture and God provide pivotal roles in your life."
Daily devotionals are a well-known avenue for Christians to study the scripture. However, Jillian Lasecki included a means for My Battle Plan to be more interactive with its list of prayer requests, sermon topics, and prompts for gratitude arranged weekly. This benefits the more introverted readers who prefer worshiping the Lord and learning about His word privately. On the other hand, the more extroverted Christians, they learn to appreciate the companionship that the Bible can provide and open their perspective on whatever issue they may be facing.
"Studying scriptures gives you so much more than just biblical knowledge on people, places, and things in stories," the author advises her audience on how the journal can provide the companionship they need while offering a wealth of wisdom for living a more enlightened life. "Reading the bible helps you better evaluate your ideas and the ideas of others, gives you the personal joy of discovery, and most importantly, helps you fall in love with the Father."