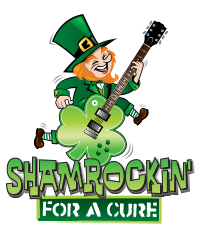 Atlanta, GA (PRWEB) February 28, 2014
Jim Ellis Audi Atlanta is a proud sponsor of Shamrockin' for a Cure 2014, hosted at the Verizon Wireless Amphitheatre on March 8 by the Georgia Chapter of the Cystic Fibrosis Foundation.
Shamrockin' for a cure is a premiere event that raises awareness of Cystic Fibrosis. Cystic Fibrosis (CF) is a chronic genetic disease that progressively damages the respiratory and digestive system. CF results from a defective gene and its protein product producing thick mucus that obstructs the lungs, blocks the pancreas and stops natural enzymes from assisting the digestive system break down and absorb food, according to the Cystic Fibrosis Foundation website.
The Shamrockin' For A Cure event began after Roswell native, Pam Baker sought to find a cure for her 2-year-old son Gavin and found out her second son, Jake, also had the disease when she was six months pregnant. The event started as a small gathering of friends looking to support Baker and has evolved into a party with a purpose with expected attendance of over 1,200 people and supporting over 30,000 CF families. In just five years the event has raised $525,000 in proceeds for the Cystic Fibrosis Foundation to support the development of new drugs, the advancement of research, and ultimately a cure for Cystic Fibrosis.
This year's event will include live 80's music, over 20 local restaurants and drink vendors and a live and silent auction. Guests can donate an auction item and bid to win sports memorabilia, art, crafts, or travel vouchers. Jim Ellis Audi Atlanta will support the event as a Lucky Sponsor!
For more information about becoming involved in the movement or being part of this public event, visit the Shamrockin' for a Cure website to see how you can get involved or purchase event tickets.
About Jim Ellis Audi Atlanta
Jim Ellis Audi Atlanta is a full service new and used Audi dealer in Atlanta, GA, that has been in business since 1971. The dealership carries the largest inventory of both new and used Audis in the area. The Jim Ellis Audi Atlanta service technicians are trained on Audi cars and SUVs, and boast a knowledgeable parts staff that proudly serves the Atlanta, Alpharetta and Roswell areas. Visit them at 5901 Peachtree Boulevard or online at http://www.jimellisaudiatlanta.com.