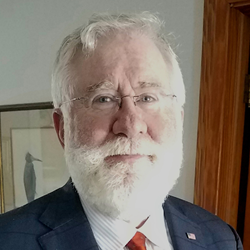 FT. PIERCE, Fla. (PRWEB) May 06, 2019
The Florida Small Business Development Center (SBDC) at Indian River State College (IRSC) in Fort Pierce announced that Jim Blasingame will be the keynote speaker at their 7th Annual Entrepreneurship and Small Business Conference on May 7, 2019. Blasingame is one of the world's leading experts on business and entrepreneurship.
Blasingame will deliver a two-part message: How humans can have more control over and become less anxious about technology, plus what Main Street businesses must do to achieve relevance with customers in the digital age. The day-long conference will take place Tuesday, May 7 from 7:30 a.m. to 3:00 p.m. at the Kight Center for Emerging Technologies on the IRSC Main Campus.
"We're very excited to have someone with Jim Blasingame's thought-leadership credentials speak at our annual event," said Tom Kindred, Regional Director, Florida SBDC at IRSC, which offers consulting and training from zero to low cost to new and existing small businesses. "The ideas Jim will present are extremely timely and invaluable to our members. Plus, as a decades-long champion of SBDCs, he's one of us."
"What an honor to be invited to participate in the annual celebration of the Florida SBDC at Indian River State College," Blasingame said. "SBDC leaders and professional counselors across the U.S. are some of the most dedicated Main Street business champions on the planet and supporting them in any way I can has been an important part of my work for years."
Internationally recognized as "The Voice of Small Business," Blasingame is author of the multiple award-winning books, including his new work, "The 3rd Ingredient: The Journey of Analog Ethics into the World of Digital Fear and Greed" and "The Age of the Customer: Prepare for the Moment of Relevance." He is creator and host of the nationally-syndicated, weekday radio program, The Small Business Advocate® Show, now in its third decade. For almost two decades, Blasingame's syndicated column has appeared weekly in newspapers and magazines in the U.S. and Canada, as well as digital publications such as Forbes.com, BizJournals.com, and Nasdaq.com, to name a few.
Blasingame is founder and president of Small Business Network, Inc. (SBN), which produces and distributes more multimedia small business content than any other organization in the worldwide, including The Small Business Advocate Show.
The Small Business Advocate®, The Age of the Customer®, and The 3rd Ingredient®, are registered trademarks of Small Business Network, Inc.