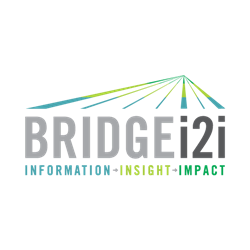 FREMONT, Calif. (PRWEB) July 31, 2019
With a career spanning 38 years of professional services delivery and leadership, Jim has spent 25 years as a Partner serving clients and running P&L businesses at Deloitte LLP, including seven years launching and building Audit and Advisory practices in Russia and India. At Grant Thornton, Jim was instrumental in the development and execution of strategic initiatives, and championed the operational integration of Grant Thornton's businesses. Jim graduated with a Bachelor's Degree in Business Administration from Bryant University in Rhode Island, and is a member of the American Institute of Certified Public Accountants.
Jim brings a unique depth of understanding to the BRIDGEi2i advisory board with his vast consulting and executive experience, and will help strengthen BRIDGEi2i's asset-based consulting approach to driving digital transformation for enterprises.
"It is very exciting to be associated with BRIDGEi2i and I believe I have a lot to offer to their vision and commitment of becoming a global AI solutions powerhouse; I see great synergies in this association. BRIDGEi2i has a brilliant track record of delivering client outcomes, and I foresee a great future ahead for this company." Jim said.
Welcoming Jim to the board, BRIDGEi2i CEO Prithvijit Roy said "We are delighted to have Jim join us. We believe his strong consulting background and executive expertise will help BRIDGEi2i ramp up consulting capabilities in the US market and deliver more value to clients."
About BRIDGEi2i:
BRIDGEi2i is a trusted partner for enabling AI for Digital Enterprises by leveraging Data Engineering, Advanced Analytics, proprietary AI accelerators and Consulting expertise. BRIDGEi2i enables businesses to contextualize data, generate actionable insights from complex business problems, and make data-driven decisions across pan-enterprise processes to create sustainable business impact.
BRIDGEi2i Analytics Solutions
Contact: Venkat Subramanian
Email: venkat.subramanian(at)bridgei2i.com