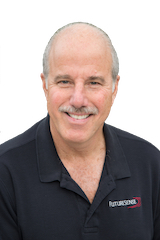 (PRWEB) August 14, 2018
Jim Finkelstein, President, and CEO of FutureSense, LLC has been named to Street Soccer USA's National Board of Directors. Street Soccer USA's (SSUSA) mission is to fight poverty and empower underserved communities through soccer.
SSUSA is a social enterprise with revenue generating leagues and tournaments that leverage private donors and corporate responsibility donations to fund in school, after-school, community-based club, and adult programs that improve the future of youth and young adults. Street Soccer introduces and builds the grassroots capacity of soccer in urban areas with the goal of transferring life skills and creating a social safety net in the community for participants. The SSUSA soccer skills provide a problem-solving framework that participants can apply to every situation they confront in life.
"I am honored to be asked to serve on the National Board of this exceptional organization. For me, Street Soccer USA is about using sports, and soccer in particular, as a metaphor and a program for social change. We are working to lift people up, whether it is homeless adults or youth at risk, and through our services helping to improve our communities. I have worked on boards for Big Brothers Big Sisters, the YMCA, and local soccer clubs in the past, and now am focusing my attention on SSUSA. I have always been inspired by Edward Everett Hale who wrote, 'I am only one, but still I am one. I cannot do everything, but still, I can do something. And because I cannot do everything, I will not refuse to do the something I can do.' Working with such an esteemed group of colleagues on this Board and with an exceptional staff, headed by Lawrence and Rob Cann, we are already making a difference and are clearly doing something. Onward and upward," says Jim Finkelstein.
Finkelstein has always been highly invested in helping people, and he's incorporated this into his business model. In 1995, after many years with large consulting firms and Fortune 1000 companies, Finkelstein set out with the intention of forming a nimble and responsive consulting firm to serve clients' needs better and create sustainable partnerships. He saw a gap in other consulting firms that siloed their Organizational Development and Compensation practices and sought to bridge that gap under one roof. Built on the principle that "people are our greatest resource," FutureSense was born to help organizations maximize their human capacity.
For more information about SSUSA, please go to http://www.streetsoccerusa.org
For more information about FutureSense, LLC please go to http://www.futuresense.com