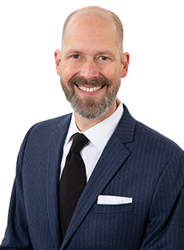 WESTPORT, Conn. (PRWEB) January 16, 2020
William Pitt Sotheby's International Realty today announced that Jim Gricar will assume the role of Brokerage Manager for the firm's brokerage in Westport, Conn. Gricar brings to the position over 20 years of real estate sales and managerial experience in Manhattan, Westchester County, N.Y., and Fairfield County, Conn.
Gricar recently served as Head of Sales at Houlihan Lawrence, where he was responsible for 30 offices in New York and Connecticut. In this role, Gricar gained a deep understanding of the synergy among city, suburban and international clientele, and expertise in helping buyers and sellers navigate the inherently inter-connected macro East Coast market.
He first entered the industry as an agent with The Corcoran Group in New York City during the late 1990s, a period of recession in the city's real estate market. Within two years he achieved top producer status, and was tapped to lead the firm's downtown business of over 125 agents. For five years, he and his agents dominated the challenging downtown luxury market, tripling revenue and becoming one of the top five brokerage operations in a national network of over 2,000.
In 2004, Gricar decamped to serve as Managing Director of the Brown Harris Stevens West Side business, again dramatically increasing the operation's gross revenue and profit and helping his associates achieve a 50 percent luxury market share. There he also worked as Head of Project Marketing, the division responsible for marketing high-end new development product. In 2011 Gricar moved to Halstead, serving as General Sales Manager responsible for 30 offices in three states, and was subsequently promoted to President.
"I am excited for Jim to join our leadership group. With significant experience spanning markets from the city to the suburbs, he has a uniquely broad understanding of the business that will prove very additive to our team," said Paul Breunich, President and CEO of William Pitt Sotheby's International Realty. "Jim has a track record of achieving dominant market share and helping agents increase their productivity. I look forward to working with him and seeing what his considerable talents will bring."
About William Pitt-Julia B. Fee Sotheby's International Realty
Founded in 1949, William Pitt-Julia B. Fee Sotheby's International Realty manages a $4 billion portfolio with more than 1,000 sales associates in 27 brokerages spanning Connecticut, Massachusetts, and Westchester County, New York. William Pitt-Julia B. Fee Sotheby's International Realty is one of the largest Sotheby's International Realty(R) affiliates globally and the 37th-largest real estate company by sales volume in the United States. For more information, visit the website at williampitt.com.
Sotheby's International Realty's worldwide network includes nearly 1,000 offices throughout 71 countries and territories on six continents.