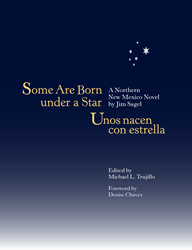 This complex, poignant, irreverent, and very rich addition to Jim's life's work makes us feel more alive, and it will be precious for years to come.—John Nichols, author of The Milagro Beanfield War
SANTA FE, N.M. (PRWEB) December 22, 2018
Jim Sagel (1947–1998) was renowned for his unique writing about Nuevomexicano culture—Sagel's writing was coined by Chicano literary scholars as "chicanesque" to recognize the contributions of this Anglo writer to the canon of Hispanic/Chicano literature. "Some Are Born under a Star/Unos nacen con estrella" (Hardcover: $16.95; 200 pages) is Sagel's previously unpublished last novel written before his untimely death in 1998. This bilingual book includes a foreword by acclaimed New Mexico writer Denise Chávez.
In "Some Are Born under a Star," Sagel reenacts the traditional Christmas play Los pastores as a backdrop for a very human and bawdy parallel tale set in the fictional New Mexico village San Buenaventura (reminiscent of Chimayó). The story opens with a young woman who has just given birth to a baby boy. The infant is Jesús (Jesus in Los pastores) and his biological mother is Marta (Mary). Sagel informs the reader in the first paragraph that the mother has only twenty-three days to live. In this Nativity narrative, Sagel invokes a guiding star that shines over Bethlehem and foreshadows the tragedy of this holy mother's death. But the story is not really about that. Instead, it is about the residents of the town who form the cast of Los pastores. Each chapter opens with a scene from the single December performance. In particular, we follow the romance of María Elena Mascareñas (born Chacón) and Francisco Mascareñas, as well as the travails of the Chacón and Mascareñas clans and friends.
Sagel's novel is written with the dark and biting humor that evokes tears of laughter and stings of recognition. Ultimately, Sagel spins a tale intended to make us laugh even as we cry—much as life does. San Buenaventura's people suffer brutal blows that sometimes (or often) knock them senseless, struggling to regain their footing, and seeing stars. They do so even as they live under a guiding star.
About the Author
Jim Sagel was a prolific and acclaimed New Mexico writer, storyteller, and educator. Born and raised in Colorado, Sagel married Teresa Archuleta, a New Mexican weaver from Chimayó. Sagel's writing about Nuevomexicano culture was initially controversial but Sagel's love of northern New Mexico and mastery of New Mexican Spanish gained respect and acceptance by the community as well as Hispanic and Chicano writers. Sagel began his long career in education as a substitute teacher at Española Valley High School. After earning his master's degree in creative writing at the University of New Mexico (UNM) in 1976, he taught at Northern New Mexico Community College in Española, the Institute of American Indian Arts in Santa Fe, and at several other UNM campuses. During his lifetime, Sagel published numerous books of fiction and poetry including Dancing to Pay the Light Bill, Garden of Stories, and Where the Cinnamon Winds Blow. In 1981, he was awarded Cuba's Premio Literario Casa de las Américas for his story collection Tunomás, Honey. Sagel was the second US citizen to win the prestigious award and Tunomás, Honey remains his most-recognized work. In 1997, Sagel won Spain's El Premio Literario Ciudad de San Sebastián for best Spanish-language play, Doña Refugio y su comadre. Sagel was the first person outside of Spain to receive the award.
About the Editor
Michael L. Trujillo is an associate professor of American studies and Chicana/o studies at the University of New Mexico. He is the author of The Land of Disenchantment: Latina/o Identites and Transformations in Northern New Mexico (UNMP 2009).
###
Media Contact and for Advance Copies:
Lisa Neal
mnmp.marketing@state.nm.us
Publishing Contact
Anna Gallegos
505-476-1160
anna.gallegos@state.nm.us
ABOUT THE PUBLISHER:
Founded in 1954, the Museum of New Mexico Press is an award-winning publisher of finely designed and crafted books that reflect the collections of the Museum of New Mexico and books that explore the cultures of the American Southwest and beyond.