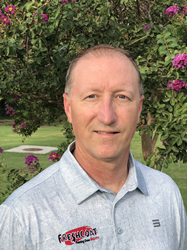 Fresh Coat Painters has a proven system that is built around a focus on quality and customer service and I'm looking forward to bringing that to my community ... We want to create customers for life. - Jim Sowle
HIGHLAND PARK, Texas (PRWEB) September 21, 2020
After a career in business leadership, Jim Sowle is pleased to announce the launch of his new, local company – Fresh Coat Painters of Highland Park.
Fresh Coat Painters offers residential and commercial painting services including interior and exterior painting, sealing and staining; pressure washing; popcorn ceiling and wall paper removal; and drywall repair. Fresh Coat Painters of Highland Park has a 24/7 receptionist, online scheduling and free detailed quotes, and they only use high-quality materials. Fresh Coat Painters of Highland Park serves Park Cities, Highland Park, University Park and Northwest Dallas.
"Fresh Coat Painters has a proven system that is built around a focus on quality and customer service and I'm looking forward to bringing that to my community. We have skilled, background-checked painters, so we can control exactly who is coming into your home. We show up on time, we do what we say we're going to do, we charge you the amount you're quoted and we do great work," Sowle said. "We want to create customers for life and we know those are the things that set Fresh Coat Painters apart."
Sowle started his career as an automotive technician and, after taking a break to compete in the Rodeo, he owned and operated a company that sold the specialized heavy equipment automotive repair companies needed to repair vehicles. After 9/11 and when his daughter started school, he realized he wanted a career with less travel and, for the last 17 years, he worked for the area's most prestigious car dealership, most of the time in a director level position.
"I've enjoyed a great career so far, but I was ready to get into business on my own and do something that gave me the opportunity to make a difference in an industry. That's what led me to Fresh Coat Painters," Sowle said. "Painting is an industry that often struggles with customer service and quality. I'm looking forward to changing that in this community with Fresh Coat Painters of Highland Park."
As part of the company's commitment to customer service, Fresh Coat Painters offers a 3-3-3 customer service pledge, which means calls will be answered by a live person within three rings, a quote will be delivered within three days (customer schedule permitting) and the job will be started within three weeks. Fresh Coat Painters has a national product partnership with Sherwin-Williams®, so products are guaranteed to be high quality.
Fresh Coat Painters was founded in 2004 as part of Strategic Franchising Systems. Since 2015, Fresh Coat Painters has been included in the Bond's Top 100 and named to Entrepreneur Magazine's Franchise 500 list. Fresh Coat Painters is also part of the International Franchise Association, the Small Business Association's Franchise Registry, VetFran and Minority Fran. Fresh Coat Painters of Sandy is bonded and insured.
For more information about Fresh Coat Painters of Highland Park, call (469) 459-3456, email JSowle@FreshCoatPainters.com or visit http://www.FreshCoatPainters.com/highland-park.