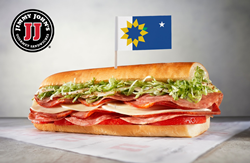 "True to their brand, Jimmy John's was 'freaky fast' in how they reached out to partner with our Choose Topeka initiative," said Matt Pivarnik, CEO of the Greater Topeka Partnership.
TOPEKA, Kan. (PRWEB) December 20, 2019
GO Topeka is excited to announce that Jimmy John's Sandwiches has increased the incentive amount for Choose Topeka, a pilot program offering incentives to encourage talent to move to Topeka and Shawnee County, Kan.
Topeka is offering up to $15,000 for those who choose Topeka as their new residence. In support of the initiative, Jimmy John's is pledging to give Choose Topeka an additional $1,000 bonus that can be awarded to any qualifying recipient who moves within one of Jimmy John's three 'sandwich delivery zones' in the city.
"True to their brand, Jimmy John's was 'freaky fast' in how they reached out to partner with our Choose Topeka initiative," said Matt Pivarnik, CEO of the Greater Topeka Partnership, the region's economic development agency. "Their support makes this program even sweeter. We are grateful for their involvement and are confident it will be another reason why people will choose Topeka for their next home."
The Jimmy John's awards will be distributed to Choose Topeka recipients who also move within a Sandwich Delivery Zone.
"This bonus funding is our way of showing love for the great city of Topeka, supporting a local franchisee, and helping more people get Freaky Fresh® sandwiches delivered to their door," said John Shea, CMO of Jimmy John's.
Since the Choose Topeka initiative was announced last week, it has gained extensive traction. The Greater Topeka Partnership has received hundreds of requests from across North America as well as international interest from potential candidates in Europe, Asia and South America. ChooseTopeka.com has been launched to provide quick answers about the program and to allow interested candidates to apply.
Choose Topeka will reimburse individuals with job offers in Topeka up to $15,000 for home buyers, and $10,000 for renters signing a one-year lease.
"The excitement this program has generated from around the world continues to amaze us," said Molly Howey, senior vice president of economic development for GO Topeka, an organization of the Greater Topeka Partnership. "The Choose Topeka incentive program is just the beginning. We look forward to welcoming the next generation of residents to the capital city."
The Greater Topeka area in Shawnee County represents a community of 178,915 people, located in the Greater Kansas City region. As the state capital of Kansas, Topeka is home to a dynamic employer base with headquartered companies including Hill's Pet Nutrition, Advisors Excel, Security Benefit, Capitol Federal and Evergy.
The community boasts the thriving "NOTO Arts District," a newly revitalized downtown district, and is the new home of the Heartland Stampede, the region's largest country music festival – which will feature superstars Luke Combs and Toby Keith in 2020.
Topeka is located less than 40 minutes from suburban Kansas City's shops and restaurant districts, less than one hour to downtown Kansas City, including the KC Crossroads District, the River Market and the Country Club Plaza, and an hour from Kansas City International Airport. Topeka is proud to be a part of the #KCHeartland.
Jimmy John's limits its delivery zones to five minutes from the store so sandwiches arrive Freaky Fresh®, and just this month gave one superfan a house so they could move within one of its Freaky Fresh® Sandwich Delivery Zones. The brand has more than 2,800 locations across 43 states. Addresses that fall within a Sandwich Delivery Zone can be discovered on the Jimmy John's website.
Those seeking to apply for the "Choose Topeka" program can also email ChooseTopeka@GoTopeka.com.