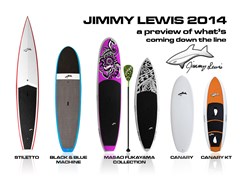 Jimmy rarely retires a shape. His boards are timeless.
Maui, Hawaii (PRWEB) August 13, 2013
With Outdoor Retailer behind and Surf Expo around the corner, shops and riders are speculating about the 2014 shapes that will hit the racks and waves in the near future. While many of Jimmy Lewis's designs are timeless shapes that will never retire, he's always thinking of new projects that will help people ride what they love. All of the boards below are built with Jimmy's Signature Construction featuring Epoxy PVC Sandwich I-Beam technology.
Now in his 45th year of making high end boards, Jimmy gives us a sneak peek at 3 new shapes and some very inspired graphics. This is only a peak at what's new. For the entire line, check out the full 2014 catalog here: 2014 JIMMY LEWIS CATALOG
SUP
BLACK AND BLUE MACHINE
Jimmy shaped this SUP for his brother John. Both John and Jimmy are classic nose riding surfers. While Jimmy already has standup paddleboards that are good for nose riding, this new board is a purist's traditional longboard: 50/50 rails; low rocker; concave nose. The name was inspired by the Rolling Stones album, Black and Blue, as well as the original Morrey Pope Blue Machine longboard. This isn't a board for everybody. Practice your cross stepping and nose riding before thinking about getting this baby. Available in blue (of course) or white.

9'6 x 28-1/2 x 3-1/2 117L
10'1 x 31 x 4-1/2 164L
STILETTO
The Jimmy Lewis Slice, Blade, and Sabre have been an evolution of race boards from Jimmy. Each has its strength in the right conditions. For 2014, Jimmy is retiring all three of those models and introducing the Stiletto Series of Race boards in 5 sizes. The new board takes the best attributes from all of Jimmy's previous race boards to create the ultimate course killer. Tapered entry and soft rails make this board excel in the chop. Recessed deck adds stability while scupper holes drain any water that collects. Available in any color you want, as long as it's Racing Red. Sizes include a kids 10'6, 3 sizes of 12'6, and a 14':
KIDS RACER

12'6 RACERS

12'6 X 27-1/2 X 5-1/2 235L
12'6 X 28-1/2 X 5-7/8 265L
12'6 X 30 X 6 290L
14' RACER

MASAO FUKAYAMA DESIGNS
Masao Fukayama is a tattoo artist who lives on Maui. He first gained attention because of some amazing wave riding photos taken by Byron Yap. Byron's pictures of Masao on Jimmy's Kwad and Stun Gun SUPs have been featured in magazines and even the JL tour van. But Masao's art really took center stage when he started painting some of his own JL boards with tribal designs. Jimmy commissioned Masao to create artwork for the 2014 Cruise Control and Stun Gun SUPs, as well as Jimmy's line of Quickblade designed paddles.
PADDLES AND ACCESSORIES
All Jimmy Lewis paddles will now come standard with an ergonomic palm grip. Paddle options include an EVA padded shaft grip as well as a fabric blade cover for travel and storage. All Jimmy Lewis boardbags will be available in royal blue.
SURF BOARDS
CANARY
Jimmy has many boards that excel in powerful waves. But what about the East Coast surfer or those who want to ride on smaller days? Jimmy created the Canary surfboard. Full nose, wide hips, diamond tail make this board a slop killer. Available in Pro White (matte finish) in:

5'6 x 21-1/2 x 2-11/32
5'11 x 22-1/4 x 2-11/32
6'3 x 22-3/4 x 2-11/32
KITE BOARDS
CANARY KT
What's good for the wave is good for the kite. With the same thought from above, Jimmy made a lighter wind, smaller wave directional board for kiters to rip on. He took the Canary surfboard, strengthened the deck and rails, added 3 part deck pad and foot strap options for 2 or 3 strap setups, and a hot paint job. Available in lime green or agent orange:

5'6 x 21-1/2 x 2-11/32
5'11 x 22-1/4 x 2-11/32
6'3 x 22-3/4 x 2-11/32
Jimmy Lewis celebrates 45 years of shaping this year from his shop in Maui Hawaii. His boards are distributed in the US, Caribbean, Central and South America to authorized dealers by Fuacata Sports, LLC based in Miami Florida.
Dealer Inquiries Welcome.
Contact Fuacata Sports to set an appointment at Surf Expo