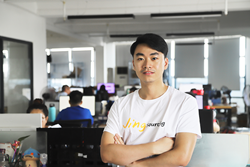 Jingsourcing has successfully served over 1500 Amazon sellers in 3 years.
YIWU, China (PRWEB) August 14, 2018
Jingsourcing, a rapidly expanding sourcing company dedicated to helping small to medium businesses source reliable product suppliers from China, is now the most preferred choice for many Amazon sellers. Since the inception of the company in 2015, they have successfully served over 1,500 Amazon sellers. They have also launched a professional program to help Amazon sellers find reliable factories in China and ship their goods directly to Amazon FBA.
In the recent years, Amazon has quickly emerged as the world's favorite online marketplace and lots of individuals are now willing to utilize this platform as sellers to make money. Interestingly, a very high percentage of products available in Amazon are from China. However, finding the most reliable suppliers of these products from China can be extremely difficult. In order to make an impact on Amazon, it is important for the sellers to ensure competitive pricing and good product quality. This is exactly where Jingsourcing comes in, providing a competitive edge to their clients.
"You don't need to have experience in importing from China. You just tell our customer representatives what products you want to import. They will help you pick out 2-3 of the best from hundreds of suppliers," says Jing, the founder of Jingsourcing. "Moreover, 70% of our customers are Amazon Sellers. We know what kind of products can help you make money on Amazon. We also have a thorough understanding of Amazon's FBA requirements for the measurement and weight of the different goods."
Jingsourcing operates with the sole objective of helping the small business importers grow. Unlike them, most of the Chinese sourcing companies serve medium and large importers such as Wal-Mart and Target. As a result, the new and inexperienced exporters are left with no other alternative but to try and find suppliers on Alibaba, or from different Chinese exhibitions. Naturally, this makes it extremely difficult for them to find a sourcing company they can bank on.
As it happens with many startups across the globe, the founder of Jingsourcing, Jing Zhu started his business from the living room of his home in early 2015. In the past three years, the company has grown by leaps and bounds. At present, Jingsourcing has more than fifty employees, and is the most popular sourcing company on the internet. The company hopes to soon become the next big name for importing items from China.
"I always get confused and dizzy when finding factories on Alibaba, too many suppliers, crazy!!! Maybe because my order was small, I didn't get an immediate response or a reasonable price even after many emails. Then I asked Jingsourcing for help, and got what I wanted. In addition, I learned a lot from Jingsourcing about importing from China," said Justin C from California, a highly impressed customer of Jingsourcing.
Hundreds of clients like Justin recommend Jingsourcing for the help they have received from the company to constantly grow their business.
More information about Jingsourcing and their services is available here.
About Jingsourcing: Jingsourcing is a China based sourcing company dedicated to helping small to medium business source reliable product suppliers from China. In three years since the inception of the company in 2015, they have grown from one to fifty people, and have become the most famous sourcing company on the Internet for Chinese products.
They are the first company offering free sourcing service. With no upfront charges, the importers can enjoy complete import services including sourcing, production follow up, quality inspection, and shipping arrangement.