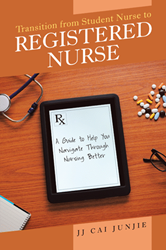 SINGAPORE (PRWEB) November 25, 2019
JJ Cai Junjie pens a guide to aid nurses and student nurses to understand the healthcare system better as they transition to the real world of the job. "Transition From Student Nurse To Registered Nurse" (published by Partridge Singapore) helps nurses and student nurses master the basics of healthcare.
As a working registered nurse himself, he also went through the difficulties of transitioning to the nursing workforce. This inspired him to write the book.
"I saw how my nursing classmates, nursing graduates struggle to make a smooth transit to the nursing workforce. I understood because I struggled myself too. I understand that it is not easy. My former lecturer, encouraged and inspired myself to write the book as she saw how passionate I was in helping nursing students understand their future role as a Registered Nurse," Junjie says.
Unlike most nursing books that are in textbook formats, Junjie's book contains facts, practical tips and personal experiences that are useful to the target readers. He hopes that as nurses and aspiring nurses read the book, they are able to understand what it means to be a registered nurse and how to work together with medical and allied health to touch patient's lives. To know more about the book, see it online in https://www.amazon.com/Transition-Student-Nurse-Registered-Navigate-ebook/dp/B07W7PXXHQ/ref=sr_1_1?keywords=Transition+From+Student+Nurse+To+Registered+Nurse&qid=1566191856&s=gateway&sr=8-1.
"Transition From Student Nurse To Registered Nurse"
By JJ Cai Junjie
Hardcover | 6x9 in | 228 pages | ISBN 9781543745535
Softcover | 6x9 in | 228 pages | ISBN 9781543745511
E-Book | 228 pages | ISBN 9781543745528
Available at Amazon and Barnes & Noble
About the Author
JJ Cai Junjie is currently a Registered Nurse working in Singapore. He graduated with honors in Alice Lee Centre for Nursing Studies, National University of Singapore, and completed his postgraduate certification in Wound, Ostomy, and Continence at Curtin University. He is a strong believer in having quality outcomes for all his patients. Nursing, in his perspective, is the art of rendering holistic care, above and beyond just physical care.
Partridge Singapore, an imprint in partnership with Penguin Random House Singapore, aims to help writers in Singapore, Malaysia, and the rest of Southeast Asia become published authors. Partridge Singapore gives authors in the region direct access to a comprehensive range of expert publishing services that meet industry standards but are more accessible to the market. For more information or to publish a book, visit partridgepublishing.com/singapore or call 800 101 2657 (Singapore) or 1 800 81 7340 (Malaysia). For the latest, follow @PartridgeSG on Twitter.