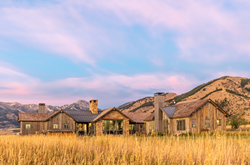 JLF Architects has built a reputation on building what have been called "brand-new 100-year-old houses."
BOZEMAN, Mont. (PRWEB) May 14, 2021
Following more than three decades serving as Montana's U.S. Senator and then as Ambassador to China, Max Baucus – and his wife, Melodee Hanes, whose public service and law career also spans over 30 years and includes work with the U.S. Department of Justice – retired to their Montana roots. The homecoming brought them to property in the Gallatin Valley near Bozeman, where they turned to JLF Architects president and senior designer Paul Bertelli to design their forever home, featured in the 2021 issue of Big Sky Journal HOME (BSJ). "Paul is an artist," Baucus tells BSJ.
Nestled at the base of the Bridger Mountains with 360-degree perspectives on four other mountain ranges, the building site offered amazing views, but the landscape here took designers in a different direction from the high-country houses JLF is best known for. "Walking the site, it was agricultural," Bertelli says. "And for our environment, it was less mountain-oriented and more prairie-oriented." The resulting 3,800-square-foot home "recognizes the valley's architectural history and engages with its surroundings," the magazine writes, calling out the house's low profile, long sightlines and unobstructed views.
Pioneers in crafting new houses from antique lumber and locally sourced stone with more than 40 years' experience, JLF Architects has built a reputation on building what have been called "brand-new 100-year-old houses," taking iconic regional forms in contemporary directions that embrace modern living. For the Baucus-Hanes house, that ethos included designing with materials historically used in the area including reclaimed wood and Montana moss rock, as well as large glass-and-steel industrial-style windows that maintain a constant connection to the landscape while providing welcoming, light-filled interiors.
The house is comprised of separate volumes connected by breezeways, reducing the scale to reflect historical construction techniques where size "had to be modest enough to be crafted by homesteaders," as Bertelli puts it, and referencing the practice of adding buildings over time as owners' needs changed. "Regionalism is familiar, comfortable," Peter Belschwender, CEO of OSM Construction, who were builders on the project, says of the JLF philosophy. "It makes you feel like [a home is] where it should be." A noteworthy element in that approach for the Baucus-Hanes house is the weathered red barn – actually a garage with second-floor apartment – with exterior reclaimed wood strategically placed to look as if it has aged naturally over many decades.
The barn transitions to the main house via a glass breezeway with floor-to-ceiling views that leads through a mud room to the kitchen, living and dining rooms beyond. Interior reclaimed wood provides continuity, and the family room and dining room are divided by a massive stacked stone woodburning fireplace, framed by soaring timbers. The dining room's folding glass walls open fully to the outdoors, providing an extraordinary experience of surrounding nature.
The goal throughout the house was to "create this intimate space that really celebrated the site and the mountains," Ashley Sullivan, JLF partner and project architect, tells Big Sky Journal. Indeed, nearly every room offers superb views of the surrounding landscape where the homeowners revel in watching the changing weather and seasons, and "the colors are a kaleidoscope," says Baucus.
Melina Datsopoulos, an interior designer with the Missoula, Montana-based firm Trappings Studio, helped Hanes and Baucus with interior finishes and furnishings, including incorporating and framing an art collection of works by Montana artists as well as pieces collected from the couple's time spent in China. After a year of living in the home, Baucus and Hanes sum up their experience in one word to Big Sky Journal: "perfect." Says Hanes, "We're just glad to be in Montana, in a place that we love." Baucus agrees. "I feel incredibly lucky."
About JLF Architects:
With over 40 years of experience, JLF Architects, pioneers in building houses with reclaimed antique timber and indigenous stone, continue as leaders in creating sustainable legacy houses that contrast rustic materials with the best of contemporary design. The award-winning Bozeman, Montana-based architecture firm with offices in Jackson Hole, Wyoming, and Park City, Utah, applies distinctive solutions and Old-World techniques to create place-based houses closely aligned with the natural world and honoring history, from the Rocky Mountains to the Eastern Seaboard. For more information visit http://www.JLFArchitects.com and follow JLF on Instagram and Pinterest.