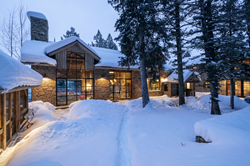 For inspiration for this contemporary yet rustic house … JLF Architects turned first, as they often do, to history.
BOZEMAN, Mont. (PRWEB) January 29, 2021
The legacy houses JLF Architects creates in collaboration with design-build partner Big-D Signature are known for standing the test of time. Often the structures, designed with salvaged timber and indigenous stone that honor regional history and the natural world, must also withstand the Rocky Mountain West's unforgiving winters, where temperatures can fall to -30 F and winds blow to 80 mph. Big Sky Journal celebrates one such JLF house in the magazine's new winter issue: the Jackson Hole project's robust construction stands impervious under feet of snow, its character-laden rustic materials paired with modern technology to keep interiors cozy despite contemporary expanses of glass and steel that allow homeowners to embrace the beauty of the surrounding wintry landscape.
For inspiration for this contemporary yet rustic house, sited on four acres protected by a 100-acre conservation parcel to the south and with long views to Sleeping Indian and Gros Ventre mountains, Paul Bertelli and Travis Growney of JLF Architects turned first, as they often do, to history – in this case to the clients' beloved antique house back East with its many years of homey memories. "This is a reinterpreted New England antique in Wyoming, with cozy, warm and interesting spaces," Bertelli tells Big Sky Journal. "The tonality and textures are an expression of the clients' values."
Working from an initial premise of two stone "remnant structures" connected by a glass-walled dining room, the house neatly divides public and private spaces. Wide-plank chestnut floors convey warmth, while the industrial-style windows allow light to flood the rooms even as snowflakes fall. "We kept the rooms and components to a modest scale and used stone to compress the spaces and keep them intimate," Bertelli says. "Then we used as much glass as possible to pull them apart and bring light into the building."
Indeed, the great room boasts a two-story glass wall that "helps dissolve any barrier to the patio, which is backed by a glade of pine and spruce and leads the eye to the site's most prominent mountain view to the west," writes the magazine. "But its touchstone detail is undoubtedly the partial wall that defines the dining room, a seemingly crumbling remnant that lends history and patina to the project."
To further the house's mission of sitting easily on the land, the homeowners requested it be built to achieve LEED certification. So green-build efforts were carefully integrated into construction, including recycling building materials, using locally sourced products and managing water use, heat loss and energy consumption. Reclaimed materials came from within 500 miles, including Montana sourcing for the master-wing log stack and all of the stone, and exterior siding from Idaho. The team installed low-flow toilets, showers and faucets and Energy Star appliances, and separated and recycled steel, sheetrock and wood. Ultimately, says Brady Crawford, who oversaw construction for Big-D, "We actually surpassed the [basic] LEED certification requirements and earned Silver."
About JLF Architects:
With over 40 years of experience, JLF Architects, pioneers in building houses with reclaimed antique timber and indigenous stone, continue as leaders in creating sustainable legacy houses that contrast rustic materials with the best of contemporary design. The award-winning Bozeman, Montana-based firm with offices in Jackson Hole, Wyoming, and Park City, Utah, applies distinctive solutions and Old-World techniques to create place-based houses closely aligned with the natural world and honoring history, from the Rocky Mountains to the Eastern Seaboard. A keystone of JLF Architects' durable appeal is the 20-year partnership with Big-D Signature implementing a streamlined design-build process that benefits clients. For more information visit http://www.JLFArchitects.com and follow JLF on Instagram and Pinterest.