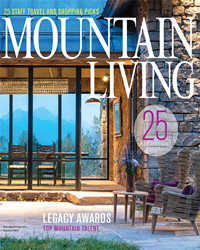 We had to convince homeowners we could make buildings out of things like old cabins that had survived 100 years.
BOZEMAN, Mont. (PRWEB) May 10, 2019
Paul Bertelli, partner and design principal of JLF Architects, has been honored with the Mountain Living Legacy Award, one of 15 award winners from six Western states. The award recognizes top talent in the Rocky Mountain West who have made a significant contribution to mountain home design, with winners announced in the magazine's just-released 25th-anniversary May/June 2019 issue. Bertelli's work also earned JLF Architects the cover image of the magazine, featuring a design-build Jackson Hole house the firm created with Big-D Signature. JLF Architects, celebrating its own anniversary – 40 years – this year, is based in Bozeman, Montana; Jackson Hole, Wyoming; and Park City, Utah.
"The work of these talented individuals has been showcased in the pages of Mountain Living over the past 25 years," says Mountain Living Editor in Chief Darla Worden regarding the Legacy Award honorees selected by a panel of distinguished judges. "Now, we're delighted to provide this special recognition of their long-lasting impact through their ideas, products and innovations."
When Bertelli started designing houses four decades ago, the notion of leaving a legacy was not part of his plan. He dedicated his career to a design-build philosophy that launched a movement using reclaimed materials in new construction. Focused on place-based architecture, he began disassembling original homestead structures from the first settlers in the Mountain West and reconstructing them with authentic methods that honored the time-worn qualities to form houses that would blend into the dramatic landscape as if they'd stood in the same spot for centuries.
Today, with over 200 projects in his portfolio and celebrating the JLF Architects milestone 40th anniversary, Bertelli recalls his start in architecture, telling Mountain Living, "In my early career we had to convince homeowners we could make buildings out of things like old cabins that had survived 100 years. They were almost romantic replications."
Pioneering the movement of using reclaimed materials to create stunning new houses that stand the test of time, JLF Architects is constantly evolving with new ways to push the boundaries in beautifully combining antique and contemporary. "We are in the business of building houses for families to pass down from generation to generation," Bertelli tells Mountain Living, and indeed, the firm is widely recognized in the Rocky Mountain West and beyond for its ability to build "brand-new 100-year-old homes."
This is the inaugural year of Mountain Living's Legacy Award. The magazine selected individuals demonstrating 15-plus years of exemplary work in architecture, interior design, landscape architecture, lighting design and furniture to receive the honor. Winners were judged on body of work, dedication to mentoring, community involvement and lasting contribution to the area of mountain residential design. The Legacy Award winners represent businesses in Montana, Wyoming, Colorado, Arizona, Idaho and Utah. A full list of the 2019 Legacy Award winners is available here: http://www.mountainliving.com/People/2019-Legacy-Award-Winners/.
About JLF Architects:
Building timeless structures rooted in integrity and simple elegance, Jackson Hole, Park City and Bozeman-based JLF Architects applies distinctive solutions and materials to create place-based houses marked by the influences of landscapes from the Pacific coast to the Rocky Mountains to the Eastern Seaboard. Their award-winning perspective is powered by inspired design and an exacting eye for placement, an ethos that stems from a unity of nature, beauty, balance and imagination. JLF Architects has established a genuine alliance with Big-D Signature, built over 19 years of working together, to create a streamlined design-build process that benefits clients. Winners of Mountain Living magazine's 2016 Home of the Year, the JLF Architects and Big-D Signature design-build team unites passionate architects with dedicated builders to enable the collective imagination of visionary artisans working with visionary clients. For more information visit http://www.JLFArchitects.com and follow JLF on Instagram.