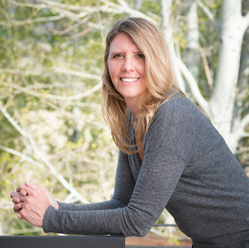 "Creating dynamic spaces has always been a part of my life," says award-winner Sullivan.
BOZEMAN, Mont. (PRWEB) August 18, 2020
Ashley Sullivan, design principal and managing director of JLF Architects, headquartered in Bozeman, Montana, has earned a 2020 Women in Architecture Award from Mountain Living, featured in the current August issue of the magazine. Following an invitation for homeowners, architects, designers and photographers to nominate women who are "creating a wide range of mountain homes in new and interesting ways," Mountain Living's team of judges selected eight outstanding women architects to honor with the new award, including JLF's Sullivan, recognized for her talent in designing houses that are equally timeless and innovative.
"We are delighted to honor eight talented women with our inaugural 'Women in Architecture' award," says Darla Worden, editor in chief of Mountain Living. "After soliciting nominations from architects across the Mountain West, we felt these women each demonstrated an established portfolio of work that represents the best of what's fresh and new in mountain architectural design."
One example of Sullivan's exceptional design work, on display in the magazine, is a stunning waterfront mountain house in the woods of Wyoming. Re-envisioned out of a former rock quarry and graveyard for cars, the site has been transformed into a series of rehabilitated ponds and streams amid which the house lightly rests, reached across a reclaimed-wood bridge. Singular design features include the dramatic dining room "bridge" above a spillway, with bronze-framed glass doors that fold back to completely open the space to surrounding nature, and a "floating" steppingstone pathway that leads to an expansive outdoor living space. Built of Montana moss rock and reclaimed timber with JLF design-build partner Big-D Signature on spits of land surrounded by water, the house features floor-to-ceiling windows that open on the surrounding mountain and wetlands oasis.
Sullivan was first struck by the ability of architecture to change lives while working with Professor Samuel Mockbee at Auburn University's legendary Rural Studio. The off-campus design-build program, part of the university's School of Architecture, Planning and Landscape Architecture, assists under-resourced communities of West Alabama's Black Belt. "The project I worked on was a family's first home with indoor plumbing," she tells Mountain Living. "I saw the impact of my profession firsthand." She also learned to love the hands-on craft of building, from swinging a hammer to pouring concrete, a passion that serves her well in JLF's own design-build ethos of honest materials and artisanal craftsmanship.
But "creating dynamic spaces has always been a part of my life," says award-winner Sullivan. As a child, she built "magical spaces" in the woods around her family's homes in Wilton, Connecticut, and Nashville, Tennessee, and, as Mountain Living suggests, she's "still creating magnificent and magical places." One of those places is the dramatic Hidden Lake House in Tennessee, where maximizing the location of the house with the abundance of water at the site facilitated a "floating pagoda" style that links the built and natural environs. Pitched roofs of Corten steel hover over the stacked limestone and reclaimed timber walls. Constructed on a private lake, the house was the realization of a lifelong dream for the homeowner and earned JLF a feature in Architectural Digest.
Another Sullivan project, High Meadow House, an award-winning rustic-yet-refined hybrid of urban and Western influences, pairs ageless materials – timber, stone and Corten steel – with luminous contemporary elements, while reclaimed antique log walls and stacked stone nod to regional history. Situated on a Jackson Hole butte with commanding Teton Mountain views, the homestead feels synonymous with place, artfully scaled as a series of buildings that step down the hillside, appearing to grow out of the landscape. Sullivan's work on the house emphasizes what Mountain Living calls "Sullivan's place-based architecture and design sensitivity," sparked years earlier by those magical childhood creations in the woods.
About JLF Architects:
Building timeless structures rooted in integrity and simple elegance, Jackson Hole, Park City and Bozeman-based JLF Architects applies distinctive solutions and materials to create place-based houses marked by the influences of landscapes from the Rocky Mountains to the Eastern Seaboard. Their award-winning perspective is powered by inspired design and an exacting eye for placement, an ethos that stems from a unity of nature, beauty, balance and imagination. JLF Architects has established a genuine alliance with Big-D Signature, built over 20 years of working together, to create a streamlined design-build process that benefits clients. Winners of Mountain Living magazine's 2016 Home of the Year, the JLF Architects and Big-D Signature design-build team unites passionate architects with dedicated builders to enable the collective imagination of visionary artisans working with visionary clients. For more information visit http://www.JLFArchitects.com and follow JLF on Instagram and Pinterest.