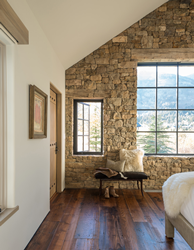 'Reclaimed materials give a sense of permanence and inherent history' within a house.
BOZEMAN, Mont. (PRWEB) February 25, 2020
JLF Architects' strong relationship to wood began 40 years ago with the restoration of a log cabin in Montana. Today the firm continues to reimagine reclaimed wood in a contemporary form for its clients, creating legacy houses with an artisanal and custom story that draws on the history and character of the material. Those decades of expertise – and stunning resulting projects – brought the firm recent attention from The New York Times, Wall Street Journal and Cowboys & Indians magazine, all turning to JLF as a source for articles about the popularity of wood in new house designs.
JLF explores an extraordinary number of options in selecting the perfect wood for a house, looking at each building holistically before making major decisions. "You can find oak siding off a 150-year-old building that's been weathered beautifully and use that for flooring," JLF Architects Design Principal Paul Bertelli tells The New York Times in its "Fix It" column titled "How Hard Can It Be to Choose a Hardwood Floor?" – adding how JLF frequently does just that. "We want character in the floor, and our philosophy is that there are perfect imperfections."
For its article "Homeowners Get Into the Groove of Reclaiming Old Wood," the Wall Street Journal writes, "Even some of the most modern-style homes are featuring barnlike timber beams on ceilings, milled antique floors and reclaimed—often hand-hewn—accents to give living spaces a warm, lived-in aesthetic." While the practice of incorporating carefully selected old wood in contemporary designs is nothing new for JLF, Bertelli offers his firm's practice of lightening aged oak with lye and bleach for those who don't like the darker coloration that comes with age – "sometimes it just feels too heavy and dark," he says – and notes that JLF combines the timber with steel and glass for a more modern profile.
JLF sources antique timber from a variety of original structures – from regional barns and fences to a disassembled old factory made of rare redwoods – to select the exactly right stock for clients' houses. And the firm's designs often combine a variety of wood treatments, intentionally layering rustic and refined textures in different uses from burnished plank floors to hand-hewn overhead beams.
It's that layering of multiple woods within a single interior that Cowboys & Indians magazine called out as a 2020 design trend in its January article "Into the Wood," which notes that it's "Out with the white, in with the walnut — or teak, or reclaimed oak, or whatever species suits your timber-trussed fancy" for the new year. The article showcases the use of reclaimed oak in different finishes in a contemporary kitchen design for a Jackson Hole house and leads with words from JLF architect John Lauman. "Reclaimed materials give a sense of permanence and inherent history" within a house, he says, sounding a familiar refrain from the masters of wood at JLF Architects.
About JLF Architects:
Building timeless structures rooted in integrity and simple elegance, Jackson Hole, Park City and Bozeman-based JLF Architects applies distinctive solutions and materials to create place-based houses marked by the influences of landscapes from the Rocky Mountains to the Eastern Seaboard. Their award-winning perspective is powered by inspired design and an exacting eye for placement, an ethos that stems from a unity of nature, beauty, balance and imagination. JLF Architects has established a genuine alliance with Big-D Signature, built over 20 years of working together, to create a streamlined design-build process that benefits clients. Winners of Mountain Living magazine's 2016 Home of the Year, the JLF Architects and Big-D Signature design-build team unites passionate architects with dedicated builders to enable the collective imagination of visionary artisans working with visionary clients. For more information visit http://www.JLFArchitects.com and follow JLF on Instagram and Pinterest.