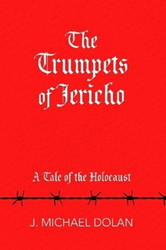 LEXINGTON, Texas (PRWEB) August 26, 2015
In his novel, "The Trumpets of Jericho: A Tale of the Holocaust" (published by Lulu), author J. Michael Dolan tells a story, via a cast of real-life characters, aimed at making the heart weep and sing all at once.
"The Trumpets of Jericho" is really two novels in one, that of the bloody prisoner rebellion at Auschwitz-Birkenau in October 1944, and the just as dramatic account of the four young Jewish women arrested and brutally tortured for their role in the revolt.
"Roza Robota, arguably the greatest Jewish heroine to come out of the Holocaust yet all but unknown to this day, comes alive on the page as never before," Dolan says. "Prepare to meet her and the rest of the heroes, and villains, in this epochal saga that both thrills and horrifies at the heights and depths humanity is capable of reaching."
Dolan, a lifelong student of the SS Vernichtungslagers, or extermination camps, believes his work will move readers as deeply as its subject has him. In addition to painting a definitive picture of this particular slice of history, he explores, among other themes, religion and the existence of God, the psychology of genocide, friendship and romantic love, sexual and other pathologies, and the nature of good and evil, right and wrong.
"I'd like my book to be both an education and inspiration," Dolan says. "Apart from acquainting the public with this most remarkable of stories and its main players, the more informed people are about this Holocaust to surpass all holocausts, the abler they'll be to recognize and, hopefully, speak out against similar crimes going on today."
"The Trumpets of Jericho"
By J. Michael Dolan
Softcover | 6 x 9 in | 560 pages | ISBN 9781483432946
E-Book | 560 pages | ISBN 9781483432953
About the Author
Fascinated from an early age by Hitler's Final Solution, J. Michael Dolan has crammed a lifetime of study into "The Trumpets of Jericho." He lives outside of Austin, Texas to be near his family – particularly his four grandchildren – where he is currently researching a novel 2,000 years removed from his field: a story set in the Judea of the early Roman Empire.
Lulu empowers people of all ages to explore and express their interests, passions and expertise through books, photography and art. Since introducing self-publishing in 2002, Lulu has empowered creators in more than 225 countries and territories to produce nearly two million publications. Lulu Jr. allows children to become published authors, encouraging creativity, strengthening literacy and building self-esteem. Picture.com offers professional photography of collegiate and professional sports, memorable and historic events, fine art and home décor. For more information, please visit http://www.lulu.com.