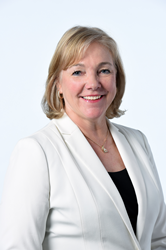 "We are delighted that Flo has joined JMJ. Flo has unrivaled experience which makes her a stand out in the Major Capital Projects market." -Sue Steele, CEO at JMJ Associates
AUSTIN, Texas (PRWEB) August 13, 2019
JMJ Associates (JMJ), the leading global management consultancy specializing in safety leadership and project performance has appointed Flo Mostaccero as Partner for Major Capital Projects. With over 30 years of international and regional experience in delivering large complex capital projects, Ms. Mostaccero assumes global responsibility for JMJ's Major Capital Projects practice. Located in JMJ's corporate offices in Austin, Texas, Ms. Mostaccero will oversee the firm's continued growth in serving both owners and contractors to assure safety, quality and high performance on Major Capital Projects.

"We are delighted that Flo has joined JMJ," said Sue Steele, CEO. "Flo has unrivaled experience which makes her a stand out in the Major Capital Projects market. JMJ has a proud history of working on some of the world's most complex and iconic projects – many of which have won awards for both safety and project performance. As we continue to expand our presence in this market sector, we will be drawing on Flo's extensive background in project execution. Flo's knowledge will significantly strengthen the value of our business offerings, which includes the delivery of high-quality projects on schedule within budget and Incident and Injury-Free."
Ms. Mostaccero has served in executive roles for project owners and as well as engineering, procurement, and construction companies, supporting multimillion-dollar oil and gas, chemicals, mining and brewery projects. Having led multidisciplinary teams, her expertise spans the project lifecycle, including the interdependencies between people, processes, and technologies. She is also recognized as a global expert in the set-up, transition, execution and continuous improvement of alliances, having led alliance programs across industries from pharmaceuticals to mining to oil and gas. Her approach to projects and alliances are built on world-class manufacturing practices, where she led the delivery of one of the world's most highly automated breweries, resulting in full production in one third of a historical ramp-up time.
"I am delighted to be joining JMJ at such an exciting time as we focus on helping our clients deliver on high risk, complex mega capital projects – and do so safely. Alignment and commitment around the project's interdependent success criteria among multiple owners and contractors are of paramount importance," said Ms. Mostaccero. "I look forward to partnering with our clients across all aspects of project conceptualization, design, delivery, operations and maintenance turnarounds to generate significate and lasting asset value."
Prior to joining JMJ, Ms. Mostaccero was the Vice President of Enterprise Project Delivery Centre of Excellence at Jacobs, a $15 billion revenue company. There she led improvements in project delivery across three lines of its business. Prior to that, Flo was the Vice President of Operations, Mining, Minerals and Technology in Asia, leading operations with over 850 people as well as executive oversight of sustaining capital projects for industrial clients.
About JMJ Associates:
JMJ is a global management consulting firm, specializing in business transformation, leadership, safety and project performance for the world's largest energy, manufacturing, construction, logistics and aerospace companies. For more than 31 years, JMJ has helped clients create breakthroughs in complex business and organizational issues — including safety, productivity and quality. Please visit http://www.jmj.com to learn more.