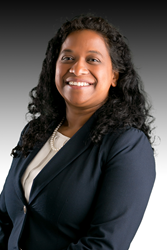 Orange County, CA (PRWEB) August 09, 2017
JML Law, which focuses on employment law, personal injury and workers' compensation, recently hired Mythily Sivarajah as managing attorney of its San Francisco office. "Mythily has had a phenomenal ten-year career, and possesses innovative skills and a dedication to representing injured workers that fits perfectly with our firm," said Joseph M. Lovretovich, founder of JML Law, which has offices in San Francisco, Los Angeles and Orange County.
Sivarajah, a first generation immigrant from Sri Lanka, has made the Bay Area her home for the past two decades. Sivarajah graduated in three years with a Bachelor of Science in Industrial and Labor Relations from Cornell University, and was a Cornell National Scholar. She received her Juris Doctor from the University of San Francisco School of Law, and was the recipient of the American Bar Association/Bureau of National Affairs Award for Excellence in the Study of Labor and Employment Law.
As an attorney, Sivarajah represents plaintiffs/employees in employment discrimination, harassment, retaliation, whistleblower, wrongful termination, wage theft and defamation matters. She also represents victims in personal injury and elder abuse cases.
"Mythily is incredible. If I were in trouble, I'd want her on my side," said fellow attorney Traci Hinden. "Tenacious does not even begin to describe this attorney. Nothing stops her. If she believes in you, it does not matter where the defendant is, she will fight for you."
Sivarajah is a member of the California Employment Lawyer's Association, Consumer Attorneys of California, and South Asian Bar Association of Northern California. She is admitted to practice in all California state courts, the U.S. District Court for the Northern District of California and the U.S. Ninth Circuit Court of Appeals.
About Joseph M. Lovretovich, JML Law
Joseph M. Lovretovich is widely regarded as one of California's top trial lawyers, and 100% of his practice is devoted to litigation. JML Law specializes in employment law, personal injury and workers' compensation. For more information, please call (818) 835-5735, or visit http://www.jmllaw.com.
About the NALA™
The NALA offers small and medium-sized businesses effective ways to reach customers through new media. As a single-agency source, the NALA helps businesses flourish in their local community. The NALA's mission is to promote a business' relevant and newsworthy events and achievements, both online and through traditional media. The information and content in this article are not in conjunction with the views of the NALA. For media inquiries, please call 805.650.6121, ext. 361.