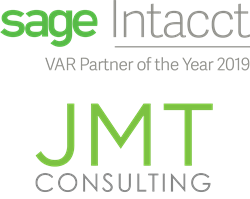 "The organizations on the Sage Intacct Partner Program award list deserve special recognition for their contribution and support in the development of robust partner programs, innovative business strategies, and significant impact on the overall health of the partner channel."
AUSTIN, Texas (PRWEB) February 28, 2020
JMT Consulting, the largest independent financial consulting and technology firm dedicated to nonprofit organizations, announced today that it was named the Sage Intacct VAR Partner of the Year.
The award is part of the Sage Intacct Partner Awards for 2019, recognizing Sage Intacct channel partners that have achieved unmatched customer satisfaction, significant year over year growth, and extraordinary sales success.
"We are proud to have been recognized for the sales and marketing success we have achieved this year," said Jaqueline M. Tiso, Chief Executive Officer & Founder, JMT Consulting. "We recorded significant year-over-year revenue growth as a result of consistent and targeting marketing efforts and customer-first outreach programs in the nonprofit community. We are excited to continue to help nonprofits achieve their missions with greater visibility and sustainability by implementing best-in-class accounting solutions like Sage Intacct."
JMT has earned several recognitions for high performance in the Sage Intacct channel program this year. They took home Marketing Partner of the Quarter in December for their strong sales performance and multi-channel marketing approach, along with membership in the 2019 Sage Intacct President's Club for their success in helping clients streamline processes and accelerate business growth. JMT is also part of the Sage Intacct Premier Partner Program, recognizing a network of partners delivering comprehensive and high-quality services, support, and software to help companies get the maximum value from their Sage Intacct investment.
"The organizations on the Sage Intacct Partner Program award list deserve special recognition for their contribution and support in the development of robust partner programs, innovative business strategies, and significant impact on the overall health of the partner channel," said Taylor Macdonald, Senior Vice President of Channel Sales for Sage Intacct. "We applaud each organization's remarkable record of accomplishments and look forward to following their continued success."
ABOUT JMT CONSULTING
Since 1991, JMT Consulting Group has worked exclusively with nonprofits to deliver the finance, development, and productivity solutions required to meet their unique goals of sustainability and mission effectiveness. Their experts use decades of nonprofit experience to mitigate risk, anticipate needs and make holistic recommendations based on the broad range of projects they have successfully delivered to over 2,000 clients across the US. Learn more about how JMT's Cloud-based technologies and unparalleled support processes help nonprofit organizations achieve their missions at jmtconsulting.com.