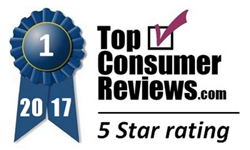 If you're looking for a job, you want immediate access to the largest possible database of open positions. You'll find that at Monster.
Overland Park, KS (PRWEB) August 24, 2017
TopConsumerReviews.com recently awarded their highest five-star rating to Monster, an industry leader in Job Search services.
Unemployment poses a constant challenge. Few workers these days are able to have a "gold watch retirement", staying with the same company throughout the course of an entire career. In fact, most people find themselves facing a job loss at some point, and even newly-minted college graduates can have a difficult time landing that first professional gig. The majority of today's job seekers make use of affordable and effective online Job Search sites to help narrow down the possibilities and get in touch with employers looking for their unique skill set.
"If you're looking for a job, you want immediate access to the largest possible database of open positions. You'll find that at Monster," explained Brian Dolezal, of TopConsumerReviews.com, LLC. "As the largest Job Search service available, job hunters can not only find thousands of open positions, but also a number of excellent tools to help them along the way: career advice, tips for creating or improving cover letters and interviews, and much more. And, for those who need help with the site or finding a resource, Monster offers 24/7 customer service through email, phone, or live chat. Given that the service is free, robust, and easy-to-use, it's no surprise that Monster earns our highest ranking for Job Search services in 2017."
To find out more about Monster and other Job Search service providers, including reviews and comparison rankings, please visit the Job Search services category of TopConsumerReviews.com at http://www.topconsumerreviews.com/jobsearch/.
About Monster
Monster Worldwide, Inc. is a global leader in connecting people to jobs, wherever they are. For more than 20 years, Monster has helped people improve their lives with better jobs, and employers find the best talent. Today, the company offers services in more than 40 countries, providing some of the broadest, most sophisticated job seeking, career management, recruitment and talent management capabilities. Monster continues its pioneering work of transforming the recruiting industry with advanced technology using intelligent digital, social and mobile solutions,
About TopConsumerReviews.com
TopConsumerReviews.com, LLC is a leading provider of independent reviews and rankings of hundreds of consumer products and services. From Job Searches to Personal Loans and Debt Relief, TopConsumerReviews.com delivers in-depth product evaluations in order to make purchasing decisions easier.