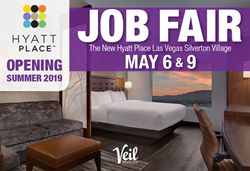 LAS VEGAS (PRWEB) May 06, 2019
WHO:
Job Seekers
WHAT:
Hyatt Place Las Vegas Silverton Village, opening in Summer 2019 will be hosting a Job Fair for all positions inside Veil Pavilion at Silverton Casino Hotel on Monday, May 6 from 1 p.m. to 4 p.m. and on Thursday, May 9 from 9 a.m. to 12 p.m. The open positions include full time and part-time Gallery Host, Breakfast Cook, Housekeeping, Housemen and Night Auditors. Applications will also be accepted for full-time positions including Engineering, a Sales Coordinator and Housekeeping Inspectors during the Job Fair.
Applicants should be dressed for on-site interviews and bring two forms of photo identification for background checks, a social security card or passport, a resume or updated online application. All applicants must be 21 years of age or older and if position requires, must be able to obtain a TAM, Health and Non-Gaming cards.
WHEN:
Monday, May 6 - 1.pm. – 4 p.m.
and
Thursday, May 9 – 9 a.m. – 12 p.m.
WHERE:
Silverton Casino Hotel
Veil Pavilion
3333 Blue Diamond Road
Las Vegas, NV 89139
About Hyatt Place
Hyatt Place, a brand of Hyatt Hotels Corporation, combines style, innovation, and 24/7 convenience to create a seamless stay with modern comforts. There are more than 285 Hyatt Place locations in Armenia, Brazil, Canada, Chile, China, Costa Rica, Honduras, India, Mexico, Morocco, Nicaragua, Panama, Puerto Rico, Thailand, The Netherlands, United Arab Emirates, United Kingdom, and the United States. For more information, please visit hyattplace.com. Join the conversation on Facebook and Instagram and tag photos with #HyattPlace and #WhySettle.