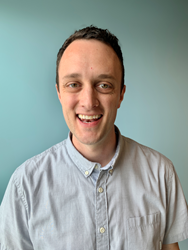 JobNimbus has values that make them really special, and I can't wait to be part of the team!
LEHI, Utah (PRWEB) March 30, 2021
JobNimbus has announced the hiring of a new Vice President of People Experience, Jared Olsen. Olsen will bring over 15 years of expertise in People Experience and Human Resources to the growing SaaS organization.
"We are honored to have Jared join our team," said CEO and Co-founder Ben Hodson. "We value our people and our culture at JobNimbus, and Jared is the best fit for improving upon what we've developed. We can't wait to see what he does to take our team to the next level."
Olsen has been widely featured as a thought leader in People Experience. His ideas have been published by TEDx, Fox Business, Silicon Slopes, Utah Business Magazine, KSL, and the Deseret News. Additionally, Jared has helped create company cultures that have been awarded various honors, including Top Workplaces, Best Places to Work, When Work Works, Innovation Award, Diversity Award, Flexibility Award, and Inc. 5000 recipients.
Most recently, Olsen has been the Head of Customer Success and Product Evangelist at Motivosity, the leading peer-to-peer recognition platform. He has also served as the Co-founder and President of REYFYA, CHRO and COO of Xima Software, and Human Resource Manager at JCPenney.
JobNimbus is known for having a values-driven approach to business that prioritizes individual and customer growth. JobNimbus has recently grown to over 120 employees and is on track to employ more than 1,000 individuals within five years. An experienced Vice President of People Experience will be vital to maintaining a quality and inclusive culture during times of growth.
"I am extremely proud to announce that I will be working with JobNimbus," said Jared. "I am passionate about culture and consider myself a thought leader when it comes to focusing on people in businesses. JobNimbus has values that make them really special, and I can't wait to be part of the team!"
For more information about Jared and his expertise, visit:
LinkedIn: https://www.linkedin.com/in/jaredolsen/
TEDx: https://www.youtube.com/watch?v=RPZnrsDESUw
Silicon Slopes Bio: https://siliconslopes.com/u/jared/
For more information on JobNimbus, visit:
Web: https://www.jobnimbus.com/
Facebook: https://www.facebook.com/JobNimbus/