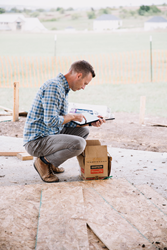 With JobNimbus, contractors have a true partner for growth through every phase of their business.
LEHI, Utah (PRWEB) May 24, 2021
JobNimbus announced today that it has been named a top construction management software product by Capterra, a free online service that helps organizations find the right software. JobNimbus was the highest rated among popular softwares in the category and had the top-rated feature set of roofing softwares.
"We're grateful to have our product featured in this report," said Ben Hodson, JobNimbus Co-founder and CEO. "Our goal is to have the best features, the most integrations, and give users industry-leading functionality. With JobNimbus, contractors have a true partner for growth through every phase of their business."
Capterra Shortlist is an independent assessment that evaluates user reviews and online search activity to generate a list of market leaders in the software space that offer the most popular solutions. The Construction Management Shortlist report is available at https://www.capterra.com/construction-management-software/#shortlist-chart.
JobNimbus is the leader in construction management software, particularly useful for roofing and other home exterior professionals. Featuring integrations with major platforms, such as Xactware, QuickBooks, EagleView, and more, JobNimbus remains the most effective tool for contractor growth. Customers using JobNimbus typically see 43% growth and 25% more payments collected in their first year with the software.
For more information on JobNimbus visit:
Web: https://www.jobnimbus.com/
Facebook: https://www.facebook.com/JobNimbus/
###
JobNimbus is a Lehi, Utah-based software company that serves contractors and business owners in the home services construction industry with its project management, CRM platform, and growth services. Since being founded in 2013, JobNimbus has expanded its offerings across 11 home service industries, specializing in roofing, solar install, and exterior renovations. For more information about JobNimbus, visit https://www.jobnimbus.com/.